By Emmanuel Aziken, Political Editor,
Brigadier-General Samuel Ogbemudia was brigade major at the 1st Infantry Division, Kaduna at the time of the counter coup of July 29, 1966. In an interview with Vanguard he gives his eyewitness narration of the events that led to the bloody encounter.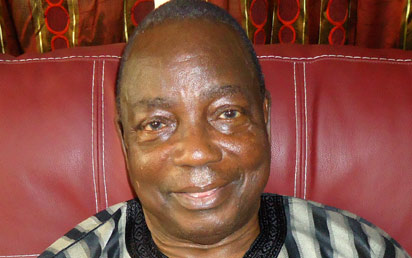 Excerpts:
It is fifty years after the July 29 counter coup. What is your recollection of the episode?
I remember very well that on the day of the second coup I was a major and my position was a brigade-major and at that point in time, there were two brigades, in the Nigerian Army, totalling with all support and everything, about 20,000 soldiers with one brigade in the North called the 1st  Infantry Brigade and the second brigade in the South called 2nd  Infantry Brigade based at Apapa in Lagos.
After the first coup, around the month of April, I think the government in its wisdom decided to reorganise the army and in the process I was moved from my position in the Military Training College, where I was the chief inspector, to become the brigade-major at the 1st  Infantry Brigade at Kaduna. I took my office, at the same time, Lt. Col. WW Bassey was appointed as the brigade commander, he replaced the late Brigadier Ademulegun who was the brigade commander. Alongside that, Lt. Col. Effiong who became the deputy to Ojukwu in Biafra was appointed deputy brigade commander. So, they were my bosses. Everything seemed to be quiet thereafter, but in my position as a brigade major, I attended regularly intelligence briefing by the special branch to the government of Northern Region and at that time, Lt. Col. Hassan Usman Katsina was the governor of Northern Nigeria. We met regularly, the area was cool, calm, but below that state of affairs, it would appear that a lot was going on which wasn't even known to anyone and if they did, they didn't tell it to anyone.
But at the intelligence meetings it was always stated that the Northern elements in the army were restless and that word was their own, not mine, that the Federal Government under General Ironsi failed to try or to prosecute the coup leaders who were at that point in time in detention. They did not see any reason why there should be a delay and it was that earlier coup of January that terminated the lives of many senior Northern officers and the premier, the late Sir Ahmadu Bello.
We met many times and the brigade-commander called me into his office one day and told me that all the soldiers in the North irrespective of tribe or religion must be disarmed and that all the arms should be locked up in the armoury until the Federal Government had finished with its reorganisation. I passed on the instruction as a brigade major.
Every time this intelligence briefing ended, I communicated with Ironsi "that the situation is not as quiet as you think and that there is still serious" and I underline serious complain that those who organised the coup have not been prosecuted. Then one day, the brigade commander directed me to summon all the commanders of the brigade to a meeting at a cinema hall and also to invite the governor to be there which I did.
On the promised day, they were all there. The aim of that meeting was to douse tension, to tell them to be patient that the Federal Government is doing something about the coup plotters.
Whether it went down or not is not something I could say, but I discharged my duty as brigade major to send out the message. Hassan Katsina spoke and said "thank you for your very encouraging words but you must know that we Northerners are not cowards and that if we want to carry out coup that it would be in the day time and not in the night.
Soon after that, I got intelligence report that a young officer had been going round itemising all the military installations and other installations for a purpose he could not explain. I got the boy arrested and he turned out to be Dimka.
The same Bukar Suka Dimka?
Yes. I locked him up in the cell and set up a small internal group to investigate his activities. That little act of mine was perhaps what saved me when I was accused (in 1976) of joining him to organise coup. He said, the man who locked him up and you want me to tell him that I want to organise another coup? I didn't tell him!
So, one afternoon, they told me that the Third Battalion which was the one nearest to us was having some problems, so I sent an officer to go there and get me first hand report. Before he arrived, some group of people came to the front of the office and dumped a human body and it turned out to be the body of Lt. Col. Okoro, the commander of the 3rd  Battalion in Kaduna.
Before then, I had a young officer who was working with me, he was 2Lt. Sanni Abacha. I was asked to send somebody to teach them the use of105 Recoilless riffle. So, I called him to go and teach them how it is used. It was that weapon that they eventually used in their Southern operation.
Being from the South did you in anyway fell you were a target?
Everybody. If you asked a Northerner who is not educated especially those boys in the lower level; to them, every Southerner not Yoruba is Igbo. They don't know who Bini, Itsekiri or Etsako are. They are all Yanmiri.
Quite a number of Igbo officers died, but I managed to rescue a number of Igbo officers but how they got to Nsukka I wouldn't know. That notwithstanding, we were in difficulty. So, one morning, they told me that they want to see all of us, non northerners, so I wore my danshiki and went there.
Who gave the instruction?
The army boys, the soldiers.
Soldiers gave instruction to officers?
Yes. That was when we knew that the situation was bad. So, all of us came and they discussed from 2.00 o'clock to about 6.00 o'clock and they didn't arrive at anything. That night as soon as they finished the discussion, Abacha came to me and said 'sir you must leave now, go to wherever you like, but you must not be in the North.'
I said 'where do you want me to pass, the road going to Lagos has road blocks manned by soldiers and they know me day or night,' so he said he would escort me.
So, he got a land rover with some few soldiers. When I got to the house, I took my wife, my children into my car, luckily, it was a new Opel Record. We couldn't load any box, so we packed the clothes and put them in the boot and l left my poultry behind and Abacha escorted me to Ilorin from Kaduna. We arrived Ilorin at about 5.00 a.m. and he said, I think you are safe from here now and he left.
I took Ado Ekiti, Akure to Benin and when I got to my house they were doing my burial because they had told my mother and my people that I had been killed. The whole funeral arrangement broke up and only my mother had the courage to come towards me. As soon as I arrived a signal came from Army Headquarters, Lagos posting me to Benin and it said I should take over from Major Johnson who became the governor of Lagos State.
After that, officers and solders of Midwest origin started coming to Benin. They were bringing senior officers to me when they arrived and the governor at that time was David Ejoor. So, we eventually found ourselves into two groups: the Ibo speaking and the non-Ibo speaking and among the non Ibo speaking, I was the most senior, so Ejoor relied more on me.
So, how did you take the killing of Ironsi?
It was a terrible news. For many months nobody agreed that Ironis was killed because the body was not found. Nobody also agreed that Fajuyi was killed because the body was not found.