By Babajide Komolafe
LAGOS — The Central Bank of Nigeria (CBN), yesterday, opened its discount window in apparent bid to save the banking system from scarcity of funds which sent interbank interest rate to 74 percent at the close of business.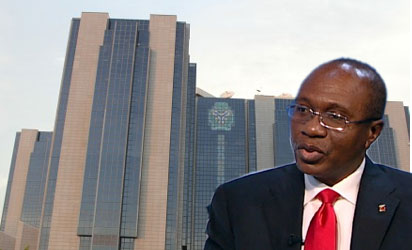 The discount window is the medium through which banks use financial instruments like treasury bills, to borrow from the CBN on short term basis to meet temporary cash shortages.
Meanwhile, the naira appreciated to N283 per dollar, yesterday, in the revived interbank foreign exchange market while competition for funds in the money market intensified, sending interest rates to 68 per cent.
The decision of the CBN to sell $4.2 billion to clear backlog of matured foreign exchange obligations had triggered intense demand for funds in the interbank market as banks sourced for N1.1 trillion to fund the dollar purchase.
Consequently, interest rate has more than doubled from Monday to yesterday. On Tuesday, interest rates rose by average of 165 per cent and yesterday by average of 33 percent.
Vanguard investigation revealed that interest rate for overnight lending shot up to 74 per cent, yesterday, in some segment of the interbank market, while the Financial Market Dealers Quote (FMDQ) disclosed that average interest rate for overnight lending rose to 68.5 percent, yesterday, from 51 per cent on Tuesday, while interest rate for securitised lending rose to 63.3 per cent from 45 percent on Tuesday.
Vanguard investigation, however, showed that the CBN, yesterday, opened its discount window to allow banks use their treasury bills to borrow cash.
Disclosing this to Vanguard on condition of anonymity, a banker said the situation was getting out of hand as there was no fund in the interbank money market.
"There was no other option, otherwise the scarcity of funds could lead to distress in the system or failure of some banks to meet their foreign exchange obligations," the source said.
Naira appreciates to N283/$
Data provided by the FMDQ showed that the naira appreciated in the spot market but recorded mixed fortunes in the futures market.
In the spot market, the naira appreciated by N2.03 or 0.7 per cent to N282.8 from N284.83 per dollars. However, in the futures market, the naira depreciated for six months and one year futures while it appreciated for seven days to three months futures.
The naira exchange rate for the six months futures rose by N4.61 or 1.5 percent to N306.74 while the rate for one year futures rose by N9.87 or 3.2 percent to N317.82 per dollar.
The rate for seven days futures, however, dropped by N2.01 or 0.7 percent to N284.04 while 14 days futures dropped by N1 to N286.3 per dollar.
Similarly, the rates for one month, two months and three months dropped to N291.7, N297.62 and N301.11 per dollar respectively.
Investigations revealed that the CBN supplied $150 million at N281 per dollar through the 15 Primary Foreign Exchange Dealers.