By Olasunkanmi Akoni
Lagos—The Lagos State Government yesterday honoured no fewer than 555 workers in the state's public service with the Long Service Merit Award.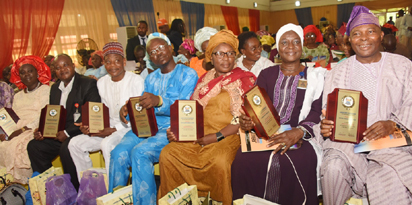 Governor Akinwumi Ambode, at the event in Ikeja, reiterated his commitment to workers' welfare, saying that he would always reward exceptional performance and sanction erring workers.
Ambode, who was represented by the Commissioner for Establishment, Training and Pensions, Dr Akintola Oke-Benson, enjoined workers to be more proactive, diligent, responsive, innovative and timely in service delivery.
"This is the desired goal of the various reforms and restructuring that we have introduced and implemented in the last one year," Ambode said.
He commended the awardees for their long years of service, saying it had all contributed to the success story of the state.
"Spending 30 years or more of one's lifetime contributing to the growth or development of any organisation, particularly the public service, is worthy of commendation," he said.
Earlier, the Head of Service, Mrs Olabowale Ademola, said the objective of the award was to honour public servants who had served the government and people of the state diligently.
Ademola said it was being done with the belief that it would spur both recipients and non-recipients to put in their best.
She advised the recipients not to rest on their oars and continue to exhibit a high sense of responsibility, commitment to duty and unwavering loyalty.
Ademola also encouraged other public servants yet to be honoured to continue discharging their duties to the best of their abilities, so that at the appropriate time, they would be honoured.
She said that the government would continue to provide the necessary and conducive environment for the attainment of their lofty goals.
Subscribe for latest Videos