By Gabriel Enogholase
BENIN—TENSION is mounting between Iguomon community and their Ikhuonbo neighbours both in Uhunmwode Local Government Area of Edo State over the ownership of a parcel of land between the two communities.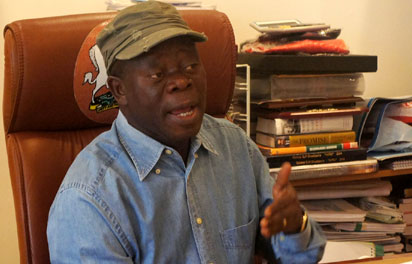 Meanwhile, to avert a clash between both communities, the Iguomon community has appealed to Governor Adams Oshiomhole and security agents to wade into the matter before it gets out of hand.
The community thanked the governor and the state Commissioner of Police for taking prompt action in the past to forestall peace and orderliness in the area and reinstated its commitment to continue to operate within the provisions of the law.
Addressing journalists in Benin, yesterday, Vice-Chairman of Iguomon Youth Association, Mr. Stanley Osazee, who spoke for the community, gave the genesis of the crisis and accused the Ikhuonbo community of crying wolf where non –existed, insisting that the land in question which he described as their ancestral land belongs to them.
He said: "We the people of Iguomon community have deemed it fit to inform the general public about the lingering crisis and the deliberate occupation of our ancestral land by some group of people who call themselves Ikhuonbo community in Edo State.
"Early this month, the people of Ikhuobo came to the media to mislead the general public, claiming that the good people of Iguomon community were trying to chase them away from their land but they refused to provide the general public with the true situation on ground.
"The land in dispute is owned by Iguomon community, and the Benin palace validated Iguomon's right to the land in the past and the palace recommended that Iguomon community should give Ikhuonbo 150ft from the land.
"The people of Iguomon community went to court to seek legal interpretation, backing and the right to owned the land by dragging the people Ikhuonbo community before an Edo State High Court in Benin which ruled that Iguomon community owns the land.
"Ikhuonbo appealed to the Appeal Court in Benin, which also validated the judgment of the lower court that Iguomon community owned the land. Ikhuonbo again went to the Supreme Court and the Supreme Court ruled in the year 2006 that Iguomon community owned the land."