Last night, The Real Deal Experience lighted up the Oyo state capital with an epic performance from 9ice who brought the city to a standstill by thrilling consumers of Nigeria's first locally brewed stout, Legend.
9ice made his entrance to the venue after an evening of fun-filled activities, which, saw over 400 contestants go home with amazing prizes like Generators, Refrigerators, T-Shirts, Face Caps and Free drinks courtesy of the Real Deal Consumer Experience.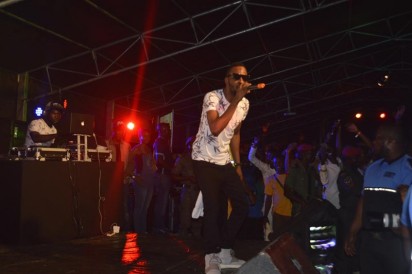 The thunderous ovation that heralded 9ICE as he mounted the stage was evidence that the crowd was thirsty for songs from him.  True to himself, he did not disappoint. With the full complement of a live band, 9ice dished out song after song from his catalogue of past albums.
His dynamic stagecraft and mastery of lines ensured that the crowd was not bored throughout his performance, which lasted close to an hour.
The excited Alapomeji crooner said; "I really appreciate the opportunity Legend Extra stout has given me to give back to my fans. I love the adrenaline I get each time I perform in Ibadan. It is always overwhelming."
The Platinum Blazers band were also not left out in the groove as they brought the roof down with their scintillating performances.
Brand Manager, Legend, Oluseun Lawal said;
"Legend is looking to make a mark in the lives of consumers that's why we always want to bring so much fun and thrill to them. You can feel the amount of energy 9ice brought on stage here to night for the Legend Real Deal Experience I'm glad everyone had so much fun. I also want to congratulate all the consumers who won prizes here to night."
The Real Deal Experience tour kicked off on April 3rd, 2016 and the train has made a stop in Lagos, Onitsha, Port Harcourt, and Ibadan, the next stop is Umuahia on the 5th of June 2016 and it will   be visiting other major cities in Nigeria in the coming weeks.