It is one of the four camps for the Internally Displaced Persons, IDPs, in Abuja. The inmates number about 2000, minus children. Just like others, life in New Kuchigoro camp, a poor suburb of the Federal Capital Territory, FCT, is better imagined than experienced. When Vanguard Features visited last Easter and met Mrs. Esther Emmanuel, one of the inmates, the encounter was one that revealed the mixed feeling of sadness and joy that pervades the entire camp.
By Levinus Nwabughiogu
YOU struggle with a strong desire to beat a retreat as you made your way through the winding and crooked road to the place which is defined by bushes and uncompleted buildings, conjuring a scene that is at once eerie and frightening. Eventually you arrive at some clusters of makeshift structures and you're shocked to find out there is no electricity, no water, no good houses.
Next, you are besieged  by several unkempt, malnourished children who stare hungrily at you, expecting you to dangle anything that will pass as food and ready to pounce on you to grab it.  Yet, they are no beggars but children of those who had either been  killed, maimed or forced to leave their villages for places of refuge by rampaging terrorists.
 Boko Haram  insurgency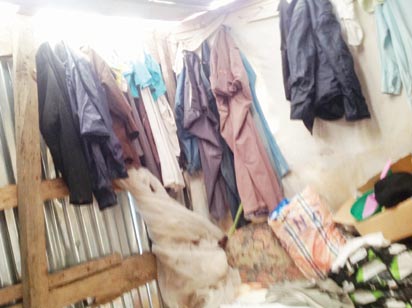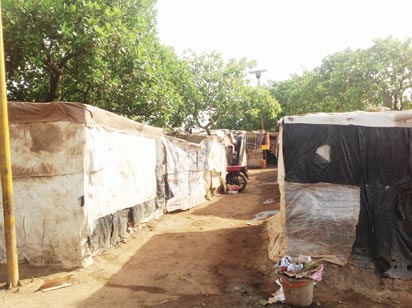 Welcome to the  New Kuchigoro, a vulnerable suburb of the Federal Capital Territory which had become a home for some Internally Displaced Persons, IDPs, most of whom escaped death by the whiskers in their different communities in Yobe, Borno and Adamawa states at the height of the Boko Haram insurgency in 2014. Some of them had been there for two years.
One of them was Mrs. Esther Emmanuel, a native of Gwoza, Borno State who became a sojourner with her husband late last year.
Like any other IDPs camp in Abuja, New Kuchigoro lacked every form of comfort. The makeshift houses are only slightly better than a chicken coop or goat and sheep shed. Even though some of the houses were partitioned to create inner rooms and sitting rooms, they still cannot be considered a habitat suitable for decent living. Not even for lunatics.
The doors, nay the entrances, were hardly wide enough to let you in. ( I doubt if there were doors). There were no windows. No lights. The structure itself was made up of used cement bags and wooden planks that appear quite shaky. Such was the condition we met Esther and her husband, James Emmanuel, that Easter Sunday. Their own abode was no better as it lacked any form of ventilation. Hanging on the wall were all manners of cloths and on the floor was a mattress, apparently the couple's bed.
I had followed Ambassador Ozuem E. Onyebolise, the Country Director of Soccer for Peace Foundation, a non-governmental organisation to the place to donate a baby net to Esther, a victim of insurgency in the North East, who first sought refuge in Cameroun.
But as fate would have it, Esther met James, a 30-year-old farmer and fellow villager from Gwoza. Love was to unite them as they got married on a foreign soil while in the camp. But there was still this strong urge to return to their home land by all means. Luck smiled on them when they were assisted by some Canerounian soldiers to cross the border to Nigeria, destination: Abuja.
Onyebolise's encounter with Mrs. Emmanuel
The day was March 20, 2016. The mission was to distribute delivery kits he had bought for the pregnant women in the camp. The day was also meant to hold a novelty match between his team at the Foundation and the IDPs, an exercise meant to give the IDPs a sense of belonging.
During his earlier visit to the camp, he had been told by the chairman of the camp, Mr. Philemon Emmanuel, the number of pregnant women there and saw at first hand the poor living condition of the inmates.
But hardly had Onyebolise settled for the business of the day than a yell and cry for help attracted his attention. And then, he was beckoned to lend a helping hand to a pregnant woman who was in labour. It was co-incidence of a sort as he was there to provide a form of lifeline through the donation of delivery kits. Though he was willing to  assist, but he also realised that this will require some medical competence. And not being a doctor, he quickly reached out for one of the kits but didn't know how to get started.
Desperate condition
Meanwhile, the woman was in desperate condition, writhing in excruciating pains. The situation was more than he could stand, especially as the woman was already bleeding, with blood and water trickling down her legs.
But the women present rose to the occasion. Led by the women leader of the camp, Mrs. Ladi Mathias, they gathered around the woman and tried to assist with her delivery.
But with the situation proving increasingly difficult and dangerous, Onyebolise had intervened by quickly arranging for a cab to rush the woman to the nearest hospital. And that was how Mrs. Emmanuel was later delivered of a bouncing baby boy.
Later that evening after the novelty match, he went back to see the woman who had also returned home after the delivery. She was full of smiles of gratitude just as she shyly requested for a mosquito net to protect her baby. It was  to oblige her that took Onyebolise back to the camp.
Mrs. Emmanuel's reaction to the kind gesture
Her smiles were broad as she giggled in extended salutation. On sighting him, she had quickly left her cooking at the fire place to greet her unexpected but welcome guest. Her excitement was humongous. She may have anticipated Onyebolise's return with the gift of a baby mosquito net.
So, she stood there amid the spiral smoke fumes from the fire, trying to speak. But words failed her as she could not communicate in the language he could understand. She bent low to demonstrate her appreciation.  He understood perfectly what those demonstrations meant.
And collecting her gifts from him, she impulsively, and in torrents too, let out the words in her mother tongue:  "Na gode, mu gode so sai", which in Hausa language means: "Thank you very much".
How sweet to hold a new born baby: Back in the hut, this reporter could not help but ask to carry the baby boy.  I could say it felt so sweet to hold him. But my immediate worry was the rashes on his skin. I remembered it's been a sunny weather for months now. I remembered the scorching sun. I remembered the heat waves. Then, I was persuaded to  look up and around the rooms again to behold the squalor and feel the suffocating heat. Indeed I came close to tears. Just then my mind did a quick race and I remembered a song for the baby. A song whose author I couldn't readily remember but I knew that it is number 526 in the Seventh Day Adventist Hymnal with the title "Because He Lives". And as I held the baby, I solemnly sang the song, especially stanza two which said:
"How sweet to hold a newborn baby, And feel the pride and joy he gives. But greater still the calm assurance, This child can face uncertain days because He lives." As I sang, I couldn't help but feel emotional quakes. But it wasn't a thing I could let my hosts know.
Enter Musa Haruna, the interpreter
VF was fortunate to have an interpreter, Musa Haruna, a 30-year-old native of the Gwoza. He made conversation with the Emmanuels easy. His own story was also pathetic. He lived with his wife, children and mother. For them, his father was considered dead because no one had seen or heard from him since December 2014 they parted ways in the bush.
Successful taxi driver
Haruna, a "successful" taxi driver in Abuja had had a close shave with members of the Boko Haram. He had happily left Abuja for Gwoza to spend the 2014 Christmas with his family only to be jolted awake by a hail of bullets fired by insurgents. Time was 1 am. To survive the attack, he, like everyone else, headed for the bush, leaving the house, his taxi and every other thing which the attackers promptly burnt. From the bush, Abuja became his next destination.
"I was a taxi driver in Abuja living with my brother. Then I travelled home for Christmas in 2014. I saw them (Boko Haram members) myself as they entered our village on December 22 at about 1am. My wife gave birth in the bush. We stayed there for three weeks. As a result, she and the baby have been ill. We ran out the same time. We have not seen our father since then and do not know whether he is alive or dead," he said.
When I asked him if he would want to go back home, Haruna retorted: "Who wouldn't want to go back home? Even it is today, we are ready to leave. What are we doing here? We don't have money. We are doing nothing here."
Haruna had seen fellow inmates die. Young men, children had died for lack of medical attention at the camp. When I asked him about a container-cabin-structure I saw standing out amongst other structures, Haruna said it was meant to be a medical centre for the camp. But the personnel had not been sighted by any body since it was erected.
When I also asked him of water, he showed me a solar-powered bore-hole graciously dug by the wife of the immediate past FCT Minister, Senator Bala Mohammed. But the the facility has been functioning well. And as a result, the adult inmates, especially boys, now take their shower in the nearby stream. I requested to be taken to the place and Haruna gladly took me through a long footpath that led to the stream. There the boys were, indeed, taking their bath.
Hunger was yet another big challenge in the camp. It was always their ever-present companion.
Public spirited individuals
Haruna told me that government does not provide food save for public spirited individuals, NGOs and churches. He specifically acknowledged the proxy visit of Pastor TB Joshua of the Synagogue Church of all Nations, Lagos who provided funds at a time. According to Haruna, the funds were shared by the respective chairmen and leaders of the IDPs according to the ranking of their states.
But such kind gestures do not come everyday and so Haruna is currently searching for any good Nigerian who would avail him a taxi fare to visit his family.
What of security? Haruna excitedly informed that the camp was well secure. Soldiers and other security operatives were regularly deployed to patrol the area, especially at nights.
Churches/mosques: We visited the place on Easter  Sunday, so religious activities were on. There was the Evangelical Church of West Africa, ECWA. There was also a Pentecostal church named "Realm of Glory" and others. Further enquiries revealed that there was also a mosque at the northern end of the camp.
Passion moved me to help-  Onyebolise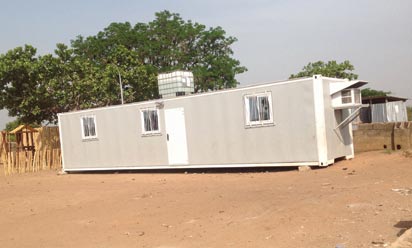 Speaking on his experience and what motivated him to get involved, Onyebolise had this to say: "I actually knew about insurgency issues in the Northern part of the country and I was thinking of where the people could have gone to. When I did my research, I came to understand they were camping somewhere around the FCT. They actually have about three or four camps here in Abuja. So, I decided to go to New Kuchigiro. On getting there, I saw the chairman. We interacted. He told me they have over 400 kids. I then decided to buy some ice cream for some of them. But before I knew it, I saw about 50 to 100 kids between the ages of two to five years, queuing up for the ice cream.
Shelter and clothing
To tell you the truth, I was so surprised and moved. By the Grace of God, I was able to buy all of them ice cream. And I went back. But I said these people needed more than ice cream. I think they needed shelter and clothing. I saw some pregnant women. I actually came back with my team to mobilise, to see how we can provide some basic things for them to actually take care of them.
What government needs to do
"When I think about the situation and the people there, I think that the government really needs to do so much more for these people. And I also do think that the military has to do more to bring peace back. These people are not comfortable living here. They want to go back home but there is no peace. So, I am calling on the government, the international community to do all they can to restore peace in their village, Gwoza, as soon as possible."
Subscribe for latest Videos