By Clara Nwachukwu
LAGOS — Indigenous service companies have asked to be involved in the construction of $14 billion Dangote Oil Refinery as a way of avoiding  enormous capital flight from Nigeria.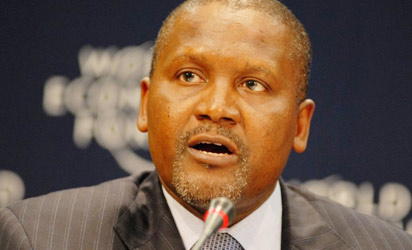 Their non involvement, they claim, will defeat the Federal Government's aspirations on local content development.
This came even as a consultant with Dangote Oil Refinery insists that the country lacks enough capacity to handle the 650,000-barrel capacity refinery project.
Some Nigerian firms, who spoke with Vanguard, complained that almost all the works involved in the project were being executed offshore, particularly in India.
This, according to them, has denied indigenous companies the opportunity to leverage their competences and ability to create jobs estimated at over 20,000.
But the Project Consultant for Dangote Refinery, Mr. Babajide Shodoye, in a telephone interview with Vanguard, regretted the capital flight, but insisted that there was not enough competence in Nigeria.
He said: "It (capital flight) is true, but sad. But where are they going to do it in Nigeria? Let us know where they can fabricate the components."
Shodoye said the company would not compromise competence in favour of content development.
"Refinery construction is based on licensed patented technology. So, how much of this technology exists in Nigeria? The last time such was done in Nigeria was 30 years ago and it was not done by any Nigerian company. In other words, none of these things have been done by Nigeria," he said.
Nigerians have capacity
But Nigerian firms, under the auspices of the Petroleum Technology Association of Nigeria, PETAN, maintained that its members have capacity to deliver.
PETAN, formed to bring together Nigerian oil and gas entrepremeurs to create a forum for exchange of ideas with major operators and policy makers,  is made up of Nigerian indigenous technical oilfield service companies in the upstream and downstream sectors of the petroleum industry.
PETAN Chairman, Mr. Bank-Anthony Okoroafor, told Vanguard exclusively: "PETAN companies have the capacity and capability to fabricate facilities and even pipe coating.
"So for the interest of our country and for our survival, those millions of dollars should not be used to provide jobs for two to three thousand jobs abroad when those jobs can be provided within the the country."
To underscore his argument, Okoroafor noted that the 1,000-barrel capacity Niger Delta refinery was built by Nigerians.
He said: "There are many components of a refinery. There is a tank farm, that would have several storage tanks; we have storage tanks for crude, and storage tanks for finished products.
''They would have pipelines. There are pipelines instrumentations, civil engineering works, metering, and all these components can be done by PETAN companies. So when you give these jobs to Nigerian companies, this money is going to reside in the country.  That is what we refer to as value added local content. We are not moving the dollars international, we are empowering Nigerians."
Nigerian firms lack capacity
But Shodoye is not convinced about their competences, saying: "I contacted three of the biggest engineering companies and none has the capacity to do one of the plants. The problem is that very few of our engineers are viable and can handle major projects."
As a result of the numerous applications, he said interested Nigerian firms were urged to form associations and liaise with foreign partners, particularly Engineers India Ltd., EIL, to execute the jobs.
"Eil has done almost 47 refineries. In a real sense, it has about 50 years experience,'' Shodoye said.