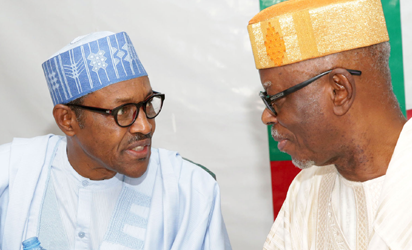 President Muhammadu Buhari, APC National Chairman, Chief John Odigie-Oyegun,
By Innocent Anaba
A coalition of some civil society organisations has advised the 13 Vice Chancellors of federal universities in the country who were wrongly appointed by the Federal Government last February to take the path of honour by resigning their appointments.
The coalition explained that the measure had become imperative following President Muhammadu Buhari's apology to the country over the ill-advised dissolution of the governing boards of the affected universities, which preceded the sack of the former Vice Chancellors and the appointment of new ones.
In a statement, weekend, in Abuja, the led by National Convener of the Concerned Citizens for Educational Development, CCED, Mr Solomon Adodo and Executive Director, Friends in the Gap Advocacy Initiative, FGAI, George Oji, commended the principled position of Professor Auwal Yadudu, who bluntly refused to accept the offer of appointment as Vice Chancellor of the University of Birnin Kebbi for not following due process.
The group also highlighted the action of Professor Andrew Haruna, Vice Chancellor of the Federal University, Gashua, Yobe State, (one of the 13 Vice Chancellors), who in apparent recognition of his illegal appointment has now applied to the University of Jos as one of the candidates for the office of the Vice Chancellor of that university.
"We use this medium to call on all the 13 Vice Chancellors who were recently appointed without undergoing the spelt out procedures to honourably tender their resignation letters as Professor Haruna did, as he subjects himself to seek the pristine office of the Vice Chancellor of the University of Jos.
"The fact that Professor Haruna could subject himself to the proper screening and interview process of the University of Jos Governing Council negates the premise on which he and the other 12 appointed Vice Chancellors were foisted on their respective universities in the first instance," the coalition said.
The group restated that the position of the law, which provides that the appointment of Vice Chancellors of Federal Universities is the sole affair of each university without undue interference from the Visitor (President) as seen in the case of University of Jos Governing Council under the Chairmanship of Dr. Don Etiebet, stressing that, "the competitiveness of the process gives room for the best candidate to emerge successfully without bias or political interference."