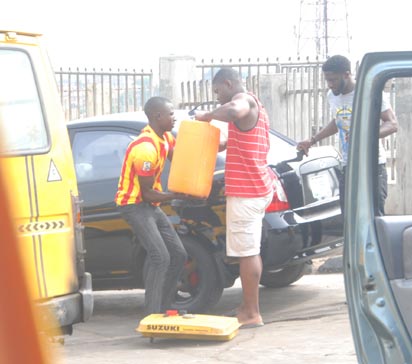 By Daniel Gumm
WARRI—Niger Delta activist and chieftain of All Progressives Congress, APC, Chief Ayirimi Emami, has urged the Federal Government to seriously consider full deregulation of the oil and gas sector, insisting that it was the only way to end the endless fuel crisis in Nigeria.
Chief Emami, who also enjoined the Nigeria Labour Congress, NLC, Trade Union Congress, TUC, National Union of Petroleum and Natural Gas Workers, NUPENG, and Petroleum and Natural Gas Senior Staff Association of Nigeria, PENGASSAN, to review the persistent fuel crisis in the country with a view to encouraging the Federal Government to fully deregulate the critical oil and gas sector so as to encourage local and foreign investors.
He appealed to the Federal Government to relax the stringent forex policy and assist petroleum marketers who import products to easily access forex at the official rate to complement the government's effort in meeting the daily local consumption demands for fuel.
In an open letter to President Muhammadu Buhari, Emami commended the Federal Government for revamping the hitherto comatose government-owned four refineries and called on government to immediately put measures in place to ensure that fuel, kerosene and other crude oil products get to the riverine dwellers at affordable amount, since there was a ban on the sale of fuel in jerry cans and the coastal communities do not have filling stations.
According to him, assigning the task of distribution of petroleum products to the coastal communities to petroleum marketers, who are familiar with the difficult terrain of the Niger Delta region will stop illegal oil bunkering and ultimately raise Nigeria's daily crude oil output, apart from making refined products accessible at regulated prices.
He also absolved the Minister of State for Petroleum Resources, Dr. Ibe Kachikwu, of any blame in the current fuel crisis, noting that the minister should be commended for his untiring efforts at making sure that the nation's four refineries have begun production again and ailing infrastructures in the oil and gas sector are being revitalised alongside sweeping reforms in the NNPC.