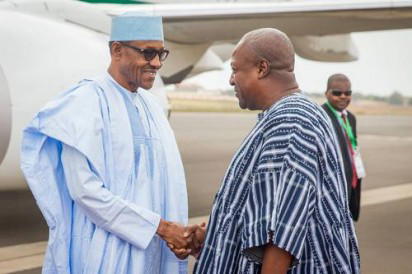 President Muhammadu Buhari with his Ghanaian counterpart, President John Dramani Mahama.
By Favour Nnabugwu with agency reports
Ghana has prohibited some items from entry into its domain, following Nigeria's foot steps that restricted 41 items from access to foreign exchange.
Ghana however has placed a ban on some goods from being imported into the country. Ghanaian Minister of Trade and Industry, Mr. Ekwow Spio-Garbrah stated yesterday that Ghana and Nigeria are said to account for some 68 per cent of the ECOWAS region's Gross Domestic Product.
Nigeria accounts for almost 10 per cent of Ghana's foreign trade volume, whereas Ghana is listed as the 9th largest trade partner to Nigeria.
Favourite investment hub
In spite of the difficulties, Ghana remains Nigeria's largest trade partner and favourite investment hub in the West Africa sub-region, as Ghana imports the largest share of all Nigerian oil exports in the West African sub-region.
While 'bagged cement' is on Nigeria's prohibition list, Dangote Cement brings in and bags some 750,000 tonnes of cement a year for the Ghanaian market, and is expected to increase this to 1.5 million tonnes by end of this quarter. The Chief Executive Officer of Ghanaian Association of Ghana Industries stated that there should be a clear letter written to the Nigerians complaining about this, and then also try and use some diplomatic means to quickly resolve it,"
"If it does not work then we must also look at countervailing measures…it could be product targeting," he said.
"If we also make it difficult for them to export, then we would have to find common ground," Kate Quartey-Papafio, CEO of Reroy Cables argued.
Even for those who are able to export to Nigeria, you have to get different certificates for different customers and it takes a whole lot of time to get it.
It makes the whole thing so cumbersome. You are exporting the same thing but you have to go and get certificates for each of the customers," she said.
Nigeria has used an "Import Prohibition List" to refuse certain goods entry into that country, including a host of pharmaceutical products. Also, the Managing Director of Intravenous Infusions Limited, a pharmaceutical company, Mr Richard Okrah noted that his company could have generated an additional 25% of export turnover from the Nigerian market.
"We have been making efforts through our agent in Nigeria to get us off this list. But it is becoming a very difficult job for us," Richard Okrah told the B&FT by phone. The company, he said, currently produces close to 6million IV fluids of various sizes per year, and that: "We have the capacity to step this up to 15 million because we are installing a new semi-automated plan that should be up and running by the middle of April this year".
He said his company faces no such restrictions from Burkina Faso, Cote D'Ivoire and other countries where it exports to.