By Francis Ewherido
I have always wanted to write on forgiveness since this column started, but never did. The opportunity came when I was chosen as the guest speaker at this year's "A Day with the Archbishop" to mark the St. Valentine Day in the Catholic Archdiocese of Lagos. The topic: The Importance of Mercy in a World Searching for Love. Since forgiveness is a major component of mercy, I spent time reflecting on it. It then occurred to me why I have been unable to write on it. Writing on forgiveness is just as difficult as forgiving unless you are a hypocrite.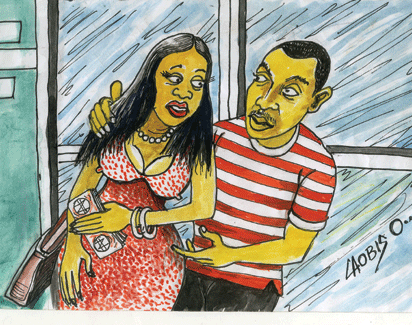 "Forgiveness is the intentional and voluntary process by which a victim undergoes a change in feelings and attitude regarding an offense, lets go of negative emotions such as vengefulness, with an increased ability to wish the offender well" (Wikipedia). Mercy (which encompasses forgiveness) is one of the bedrocks of the Christian Faith. Mercy is also very significant in Islam.
Daily, Christians are reminded in the Lord's Prayer that our forgiveness from God is predicated on forgiving our neighbour who wrongs us. Specifically, Jesus said: "For if you forgive other people when they sin against you, your heavenly Father will also forgive you.  But if you do not forgive others their sins, your Father will not forgive your sins" (Matthew 6:14:15). Also Jesus Christ said in the Beatitudes, blessed are the merciful: for they shall obtain mercy" (Matthew 5:7). To tell us that He means business, Jesus told Peter, his disciple, who was also struggling with forgiving his neighbour, that he should forgive 70 times seven, which means always (Matthew 18:22).
When we sin against God, God expects us to come to Him with a broken and contrite heart to ask for and get His forgiveness (Psalm 51). But here we are being asked to forgive people who have not even agreed that they are wrong, people who have not apologized for their transgressions, people who are still very bullish about their wrongs and will do greater wrongs if given the opportunity. And I just wondered, "God, where is the equity?"
Then God reminded me that it is not every time people ask for forgiveness before He forgives them. Sometimes He does it because He is God of mercy and compassion. He expects us to follow in His footstep since we are created in His image and likeness. To demonstrate this, Jesus in Luke 23:34 looked down from the cross and offered a prayer for those who hurt him: "Father, forgive them for they know not what they are doing." His traducers felt they were doing the right thing and could not have asked for his forgiveness.
Yet lack of forgiveness is the cause of many marital break ups. Forgiveness in marriage can be very easy and at the same time most difficult. It is easy because there is a bond, you have also taken vows of "for better, for worse," "to love and to cherish" and "until death do us part." If you take these vows seriously, you will overlook your spouse's transgressions. When you truly love and care for somebody too, forgiving transgressions is easier. You also have forgiveness mechanism like food and spousal intimacy in matrimony.
At the same time, forgiveness within marriage can be very difficult, because, like death, you feel more pain if it involves somebody close to you. Spousal betrayal or breach of trust can be very devastating and difficult to forgive.
The biblical injunctions, notwithstanding, couples need to handle each other delicately and lovingly. They should realize each other's taboos and no-go areas, and refrain from pushing their spouses beyond their limits. Do not make him/her cross the Rubicon. If it is sacred to him/her let it also be sacred to you, or at least respect his/her wishes. If you do anything to the contrary, you are not acting in love.
Some spouses see Jesus' admonition on forgiveness as a license to commit "murder" and expect forgiveness. Such spouses should also remember Jesus' new command, "Love one another as I have loved you"(John 13:34). If God holds it against your spouse for not forgiving you, God will also hold you liable for not acting in love. God is God and man is man. We are all works in progress as far as forgiving and showing mercy are concerned. Do not make it more difficult
for your spouse or cause him/her to stumble. But I must concede that some of us are unnecessarily bitter and vindictive. We are ready to cut our noses to spite our faces; we are ready to dance naked in the market square to make some useless points; our pride and ego are so gargantuan, we are beclouded from seeing reason. Forgiveness is latent or absent in some spouses' vocabulary. I heard of a couple who live under one roof, but have been quarrelling and have not spoken to each other for 25 years!
Today, some people are in bondage because they cannot forgive. Some people are bedridden with stroke, the product of an unforgiving spirit. We need to free others so that we can set ourselves free. Sometimes it is so ironic that the people you are bearing grudges against are even unaware and are living and enjoying their lives, while you have held yourself down.
Forgiving our transgressors is tough, no kidding, especially in a world where many people have made cruelty their watch word. But forgiving is one area where God expects us to meet up with His high standards without compromise. It takes the grace of God, time and a person with a large and forgiving heart to forgive. Maybe that is why God made forgiving others a prerequisite for our own forgiveness.
We need to look at ourselves too. Perfect as many of us think we are, we hurt others deliberately and inadvertently and expect forgiveness. So we should forgive. But like charity, let it begin from home with your spouse. Finally, always remember that "being kind is more important than being right," especially when it involves your spouse