By Yetunde Arebi
Philip, my friend's cousin, has always been the darling of every member of their family. A jolly good fellow, his wife also had a huge sense of humour to complement, so they were really a fun couple to be with at any time. It was as if the two were made for each other from heaven. They had everything going for them: good jobs, two beautiful children, a boy and a girl, a house in one of the freshly springing up estates in Ikoyi and holidays out of the country with the children, two or three times a year.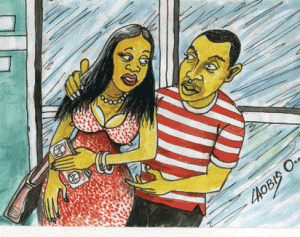 It was such a pretty perfect picture that no one ever suspected anything could go wrong. But it did. Early morning, Boxing Day, some 15 years ago, we were woken up with the shocking news of Laide's demise. She had passed on during the night. It was almost unbelievable, but for the fact that such a news was not one to make a joke of, especially not during the Christmas holidays.
Philip, Laide and the children had all attended the family Christmas party at an uncle's place on Christmas day. Like many other young couples, they had other obligations with Laide's side of the family as well as their friends, so they had left the party quite early. They spoke with my friend much later that night as she'd called to confirm if we would all (our group of friends) be catching up later that Boxing Day at another friend's house. According to Philip, she'd complained of a headache earlier that night and had taken some pain killers. But she'd woken up with a jolt sometimes in the night, coughing and holding on to her chest. She was pronounced dead at the hospital. If everyone was shocked, Philip was devastated and for a while, it appeared that he'd lost focus and even inspiration to go on. He dropped off the social radar and would spend every end of year outside the country. But he had the little children to think about and gradually things began to fall back into shape.
Soon, rumours started making rounds that Philip had found a wife. He was seen a couple of times at parties with the young girl, and soon at shopping malls with the children in tow. A very pretty, slim and fair complexioned girl, initially, no one took any serious notice of her especially because of her physical looks, a total opposite of Laide's.
Plus, her youthfulness did not strike one as a suitable replacement of a wife and mother to two young children. But it was very obvious that there was a very strong chemistry between Philip and Biodun. This was an ironic twist to it as well. Laide's death had taken the joy of Christmas away from him and here Biodun, born on Christmas day was bringing all the fun back into his life. Even as he would mourn his dead wife, he was also bound to the living to make the period a happy and memorable one.
Philip's children were not spared from her infectious bubble to life and had obviously fallen in love with her, again, her youthfulness must have helped here too. By the time he brought her to one of their family functions, everyone agreed also that she was indeed a very good and significant development in his life and welcomed her with open arms. Almost five years after Laide's death and a great struggle to raise the children alone with only two maids for help, it was time for Philip to move on with his life and settle down.
So, with bated breath, we all waited for Philip to make the announcements. But two, three years after, they were still together, waxing stronger, or so we thought, but not an indication that they were going to take the relationship any further. At a point, many could not hold their lips and began asking questions. Neither Philip nor Biodun had a cogent reason for the pussy-footing, each will tell you to ask the other. But some of us knew it was Philip doing the holding back.
He loves her, he would tell anyone, the kids are smitten with her too, but he was not sure if she would make a good mother to them. To him, Biodun lacked the maturity to discipline the children as they already see her as their friend and buddy. His two older brothers and a few others seemed to share these views too, or rather had pumped him with them. So, only a handful of us were surprised when Philip showed up at one of our gigs once again with another lady hanging beside him. We knew immediately without being told that she would become his second wife.
It was a whirlwind romance as a couple of weeks after the introduction, we were told that a date had been picked for the wedding. Personally, I was not impressed either by her looks or her disposition. Like most people, I had also fallen for Biodun's charms. Vicky may have the needed maturity and age, but she was nothing like Laide and a far cry from Biodun. She had a determined look about her, like someone with a mission and would not be stopped till she achieved it.
Plump and dark complexioned, she had a matronly look, and an aloofness in her eyes. It was clear there was no messing with this one. But who were we to complain? Neither our opinion or emotions mattered in this case; it was between Philip, his children and siblings. We are the extended family and friends, after all. It was a very small and exclusive wedding ceremony, but most of us turned up to give love and support to Philip who instructively did not appear like a lucky groom on that day.
Vicky was already showing obvious signs of pregnancy, making her not so pretty face look weird. Many of us were convinced that he had made a great mistake and that the marriage was doomed. But at the same time, we were not God and definitely would not have the final say! Long after the wedding, I could not forget Biodun and all that I had come to know about her. She was almost as humorous and bubbly as Laide, if not more, while Vicky was as dark and silent as the night.
I would sometimes wonder how Biodun reacted to the news of Philip's wedding; or how are parents reacted and what they thought of the whole drama.    As suspected, Vicky failed to bond with many members of the family and friends, maintaining a safe distance and even eventually drawing the children into her shell. She had two children in quick succession and the gist was that Laide's children had become semi-maids, waiting on her and her children hands and foot.
Indeed, the stories coming from Philips home were not happy ones at all. She considered the children as rivals to her and her children's, competing for Philip's attention and love. Soon, fights broke out often and Philip sought freedom and solace outside, even as the children rebelled against her. Biodun was still single and available and once again, she came to the rescue.
It's been over three years now. Though Philip is still married to Vicky, lives with him and their four children (Laide's two and Vicky's two), it is no secret to everyone that his heart, body and soul belong to Biodun. Just like in the days before Vicky, they are almost inseparable. They go everywhere together except for their different places of work. Laide's children, when not grounded at home with Vicky, will be found at Biodun's. Last year, both were blessed with a baby girl of their own, a testimony of their love.
While Philip never minces words in telling everyone that he is legally married to Vicky, he is quick to add that it is to Biodun that his heart belongs. According to the story, Philip had been introduced to Vicky by a very close pal at the office with whom he also has some business deals. He'd confided in a few friends about his doubts over Biodun's immaturity    and fear that she might not be able to care for the children properly. His friend then told him about Vicky, his cousin who had recently returned from the USA to settle in Nigeria.
She was homely, mature and would make a good mother to the children, he'd confirmed. He said he did not really like her on their first meeting but decided to give it a shot as she had the right credentials. But before he could say "Jack Robinson", she turned up pregnant. To honour his friend and with hindsight that perhaps, he could grow to love her, he'd married her, only to discover that it was a huge mistake. He said over the years, he'd offered her divorce, relocation back to the USA even with her children, in fact, even her cousin had intervened on his behalf, but nothing has worked.
Vicky has vowed to remain married to Philip at all cost, not minding all the humiliation and funny looks she would sometimes get from people everywhere she turned. The church is also not spared of the great hypocrisy as both Vicky and Biodun attend the family church but different services. While Biodun's little home is a haven for everyone, Vicky's mansion in Ikoyi is like a shell as even Philip's birthday celebrations are held at Biodun's.
Philip might be guilty of many things, but a lot of the blame also goes to Vicky. That you have information that a man is searching for a wife does not mean that you fit the role simply because you are female. It takes more than being a woman to be a wife and mother, most especially a step-mother. Playing the pregnancy game might sometimes guarantee a woman a ring on her finger, but it does not guarantee her the man's love, respect and a loving home and successful marriage.
All these you will need to work hard at to achieve. It is not in all circumstance that two plus two will add up to four. Sometimes there is an element of luck and grace in the stars of men. If Vicky and her conniving cousin thought they played a fast game on Philip and Biodun to secure a marriage certificate those years back, I am sure they are having a rethink now and regretting it. The race is surely not for the swift! Do have a wonderful weekend!