…declares that Rivers  State  is PDP
Rivers State Governor, Nyesom Ezenwo Wike has described  the  nullification of his election as a temporary setback,  saying  that  God's will and the  mandate of  the  people will prevail at the end of the day.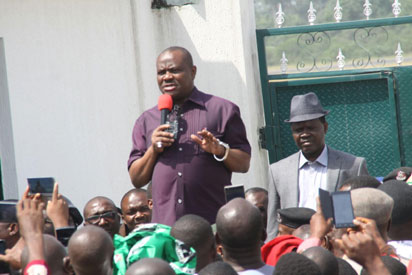 Addressing thousands of Rivers State people  who  thronged the  Port Harcourt International Airport  to receive him on Thursday, Governor Wike urged the people to remain peaceful   as the state remains  PDP  despite  the contrived situation  at present.
He assured the people  that his lawyers have already  started the process  of Appeal to the  Supreme Court, noting  that  after the Supreme Court,  the PDP  will work with whatever  judgment emanates from the apex court.
The governor said the PDP is ready  for the National Assembly elections  as ordered by the Appeal Court,  but warned  that the  people  will resist  any attempt by the Federal Government to use soldiers and policemen  to manipulate  the elections.
He said : "I want  to  warn, let nobody  attempt  to  do what happened  in Bayelsa  State here. Since they  said   they  have  annulled the  elections,  let them come and conduct fresh elections. Let nobody  think that  they can use soldiers  and  policemen  to  intimidate  us. We will  resist any such attempt.  We have maintained  our cool for a long time.  Our calmness  should  not be mistaken  as a sign of  weakness ".
The governor  stated that Rivers  people are peace loving,  but they hate injustice  and intimidation.  He advised  all PDP  members  in  the  state  to commence  unit to unit and ward to ward campaigns  for  the  National Assembly elections.
"We shall  return all our National  Assembly  members as a way to  disgrace those who think they will snatch the mandate of  the  people", he said.
He said that the administration  will continue  to  work for the people  of  the state and deliver good governance  and  projects  to  the  people.
Governor  Wike  was welcomed  by the speaker  of the  Rivers State House of Assembly, members of the State Executive Council,  former National Assembly members,  PDP  leaders, Local  Government Caretaker Chairmen,  women and youth groups.