….as 'No Rest, No Comfort' wins millions
By Prisca Sam-Duru
AS one entered the upper hall of the Kongi's Harvest at Freedom Park, Lagos on Thursday, 26th November, a giant sized aesthetically designed family bed placed against a beautifully decorated wall, beckoned for rest, sleep and much more. But a closer step and scrutiny of the colourful piece, reveals a no go area as the work was carefully crafted with very dangerous weapons; tookpicks, nails etc.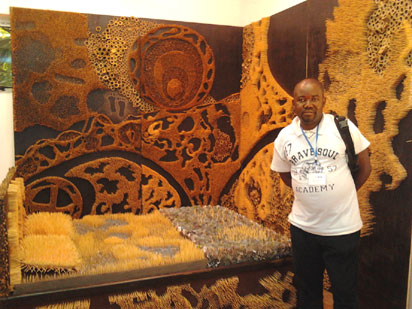 This work was titled, 'No , Rest, No Comfort, Confusion Everywhere' by Sebastine Ugwuoke as part of works by the 12 finalists of the 8th National Art Competition organised by the African Artists' Foundation, AAF and sponsored by the Nigerian Breweries NB PLC.
The dexterity and creativity displayed by Sebastine gave many a hint that the winning cash prize of 2 million naira from the treasury of NB was all his. Viewers were already in great expectations. And so, it wasn't surprising at all when he was announced winner of the coveted Prize.
Out of over 200 submissions received in June, the number was pruned to 12, for originality, creativity and clarity in relation to this years theme, 'Future Histories', by an artistic selection committee led by Professor El Anatsui. Subsequently, from the 12 finalists, a team of judges led by one of Nigeria's veteran painters and   Lecturer, Kolade Oshinowo alongside Theo Lawson, Olu Amoda, Omoligho Udenta, Amaka Osakwe, Bob Aiwerioba and Akeem Lasisi, adjudged Sebastine Ugwuoke's 'No Rest, No Comfort Confusion Everywhere',the winning entry for the 8th National Art Competition.
The Outstanding Concept went to Ngozi Omeje for her work, 'Against All Odds', while Outstanding Production was taken by May Okafor for her work titled 'Dear Content…'. Apart from the three winning entries, other works in diverse mediums which were embelished with matching themes and titles were stunning in their own ways proving the fact that NAC as well as Nigerian art, are undergoing redefinition and huge transformation.
Kolade Oshinowo who marveled at the productions, said it was difficult making a selection due to amazing productions by the artists. He pleaded to Nigerian Breweries to allow the works to be exhibited for a period of time so that viewers can walk in and interact with them.
His plea was granted as the Corporate Affairs Adviser NB, Mr Kufre Ekanem directed that works by all the finalists should not be dismantled but will remain open for exhibition till Sunday. Sebastine Ugwuoke whose winning entry, 'No Rest, No Comfort, Confusion Everywhere' speaks to issues of Boko Haram in the North Eastern part of the country, expressed joy and thanks to Almighty God for his success at the art competition.
He explained that"The art piece hopes to use foam and other soft materials with dangerous pins on them to represent a visual image of inaccessibility and lack in the midst of plenty. The work predicts that if the menace of boko haram and other related security issues are not critically addressed, the whole country will one day be thrown into anarchy when the challenge spreads all over the country."
The work process he hinted, "Followed a routine of stuffing different colours and sizes of foam as bed, which ordinarily should be a place of rest, with sharp objects ranging from nails, toothpicks and other dangerous materials to depict 'no rest, 'no comfort', 'confusion' everywhere.
Effect ofinsecurity
The work according to the new millionaire, warns and predicts that in the near future the effect of insecurity would have spread all over the country in form of unnecessary apprehensions and a non-conducive environment for business and social activities."Surprisingly, Ugwuoke disclosed that he used 72 cartoons of toothpick for production.
Feeling very proud of successes recorded by NB and level of ingenuity flaunted by the participating artists, Mr Kufre Ekanem said, "This year is mind blowing. Stunning! what a spectacle! This is one time I cannot envy judges because of the huge task of making a selection out of an array of stunning works."
As we all know, he began again, "The National Art Competition aims to promote the development of contemporary African art and raise awareness of social issues through the use of creative artistic expression. This year, we had an unprecedented number of strong, conceptually sophisticated entries from all geopolitical zones in Nigeria, proposing a variety of artistic practices in response to the theme 'Future Histories'. Today, we see all over this venue, the result of those efforts"
The evening was spiced up with a dance that incorporated drama and choreography into the breathtaking performance.