By Sebastine Obasi & Ediri Ejoh
The announcement of Dr. Ibe Kachikwu, as Minister of State for Petroleum Resources did not come as a surprise to many. But what came as a shock, was his announcement on resuming office that he will also be retaining his job as the Group Managing Director, Nigerian National Petroleum Corporation, NNPC.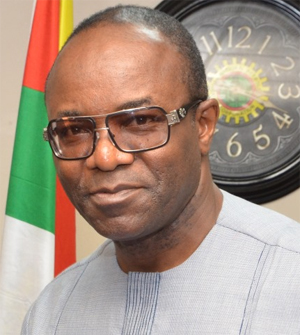 Apart from being an unprecedented history in Nigeria, stakeholders note that both portfolios represent enormous challenges, especially with the NNPC having 11 subsidiaries under its kitty.
Similarly, respondents also believe that collapsing Power, Works and Housing into one ministry under former Lagos State Governor, Babatunde Fashola, may be too much for him to handle, in view of the scope of work required in the separate entities within the group.
Those who commented on the issue responded as follows:
Chambers Oyibo – former GMD, NNPC
"Some of us have been in this industry long enough to know that the role of the GMD and that of the Minister of State will be very confusing to us as operator and as regulator. We hope government has thought through it. For example can DPR, which reports to the Minister stop NNPC if NNPC infringes on one of the laws? And NNPC reports to the same Minister who is one and the same person. I hope that has been thought through. I know that there is no problem without a solution, but we see that there will be some confusion in future."
Hon. Sergius Ogun – Member, House of Representatives
"We have not been informed officially that the current Minister of State for Petroleum Resources will double as the Group Managing Director. I will advise that we wait till this becomes official before commenting on it.
"Also, efficiency is relative, depending on who is doing the assessment. Though I have said we should wait and hear before commenting on this, it looks like you have forced a response out of me.
"The work of the Group Managing Director is basically commercial and the work of the Minister is that of a Regulator how can these two responsibilities be fused into one?
"However, my interaction with the personnel has revealed that Mr. Kachikwu has changed the way business was done hitherto in the Corporation. They gave example of the so-called untouchable contracts that he cancelled; the unbundling of PPMC. He introduced whistle blowing and recognition of personnel contribution to the overall performance of the Corporation (reward system). They also mentioned that the quality of communication within the Corporation has increased a great deal and finally that he has given management and staff hope. If he can replicate these in the subsidiaries then he would have set the agenda for change in the industry.
Olisemeka Ojieh – Managing Director, Petrocarbon Engineering Limited "It is a smart move to bring in Dr. Kachikwu as Minister of State for Petroleum Resources while managing the affairs of the NNPC because this will synchronise the planned reforms in the oil and gas sector and increase the effectiveness of the system. Kachikwu will not only be a major voice in policy making as Minister of State, but will also enforce the implementation of such policies as GMD of NNPC. I do not think the dual role is too much for him. He is highly recommended, with over 30 years' experience in the industry and a very impressive resume. The task ahead of him is onerous but he is equal to it."
Lee Maeba – former Senate Committee Chairman on Petroleum Resources (Upstream)
"If President Buhari feels he wants to appoint Kachikwu minister and Group Managing Director of NNPC, it is up to him. If he thinks the man can combine both offices, he knows why it is so. He knows what he wants. It all depends on the President's aims and objectives."
Casmir Maduafokwa – Managing Director/CEO, Tecon Oil Group. "It makes sense as a transitional arrangement only to synchronise new and mandatory policy actions with the bureaucratic operational arm of the government as far as oil and gas is concerned. The new NNPC slimmer and focused blue print headed by an oil and gas technocrat with extensive experience outside the public sector should be in place before decoupling the two positions."