By Enyim Enyim
ONITSHA—Governor Willie Obiano of Anambra State has donated N4.3 million to the Nigeria Union of Teachers, Anambra state wing in retrospect to support the 2013 world teachers day.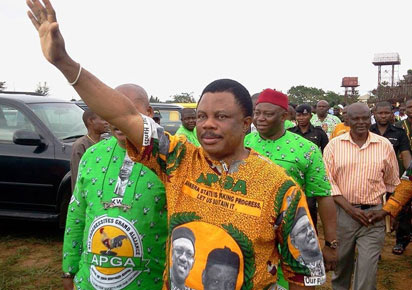 Chairman of the union, Mr Ifeanyi Ofodile stated this in an interview with Vanguard on the just concluded world teachers day celebration in Awka  on Monday.
Besides, he said the governor had also donated N10m for the completion of the Teachers House in the state as well as renovation of dilapidated school blocks in many primary and secondary schools.
Ofodile further hinted that the governor recently sponsored 23 officials from Anambra including teachers and principals of technical colleges to Singapore to understudy best practices in management, technical and vocation education.
It could be recalled that the union kicked off the World Teachers Day celebration with a church service at the Teachers House, Awka..
In a sermon by Rev. Fr. Onyeka Egwuonyia from Okpuno Catholic Church who reasoned that the teaching profession was above other professions because they taught all persons in all professions urged them to carry their duties with dignity and pride.
"I call on you to believe in our Lord Jesus Christ and carry out your duty with the fear of God. Your journey to heaven starts here on earth. If you are not useful on earth, you will be heavenly useless".
He appealed to members of the union to support the new state executive led by Mr Ifeanyi Ofodile to move Anambra NUT to greater heights and prayed God to touch the minds of governments to always pay their salaries and give them promotion as at when due.
He further urged the teachers to work as a family in fighting for their rights and eschew crisis in their union.Other clergymen who also prayed for the teachers included Rev. Fr. Romanus Okongwu from St. Michael catholic church, Ugwuoba.