By Victor Ahiuma-Young
National Pension  Commission, PenCom, has ramped up action towards capturing informal sector of the economy into the Contributory Pension Scheme, CPS, as it commenced a nationwide inter-face with workers in the informal sector ahead of the commencement of the Micro-pension scheme in the sector.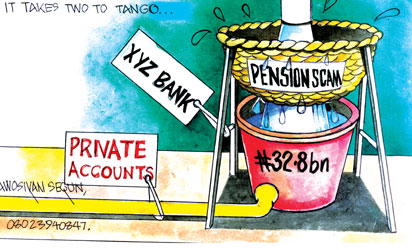 Micro-Pension is a financial programme for the provision of pension services to informal sector workers.
The programme, expected to take off before the end of this year, has been successful in India, Kenya, Ghana and other countries.
Addressing participants at the one day workshop on the CPS for self-employed tailors and garment workers affiliated to the National Union of Textile, Garment and Tailoring Workers of Nigeria, NUTGTWN in Lagos, Director-General of PenCom, Mrs. Chinelo Anohu-Amazu, said the Federal Government plans to bring over 50 million workers in the informal sector into the CPS, using the Micro Pension initiative.
She said government hoped to bring at least 20 million informal sector workers into the scheme in the next four years and assured that necessary arrangements are being put in place to ensure a smooth take off of the scheme later this year.
"Take care of your financial needs in old age now that you are working, not later.  Whatever you gain here please share with your colleagues at the branches and local units," Mrs. Anohu-Amazu admonished.
Also speaking, PenCom's Head of Research and Corporate Strategy Department, Dr. Farouk Aminu, while presenting a paper entitled "Contributory Pension for Self Employed Tailors and Garment Workers," highlighted the features of the CPS and the Pension Reform Act, PRA, 2014 emphasising coverage and access to retirement benefits under the scheme and the Pension Protection Fund, PPF.
He assured the workers that PenCom understood that the informal sector is characterised by the absence of formal structures, low and irregular incomes except those on fixed salaries, highly mobile and flexible jobs, lack of permanent work address in many instances and was ready to ease the stress associated with registration and participation for the target workers.
Farouk said the above peculiarities required special registration and customer service platforms and that the Commission was anticipating erratic contributions, remittances and withdrawal arrangements.
PenCom, he explained, hoped to make the scheme flexible to accommodate workers in the informal sector, noting that the Commission was ready to partner trade associations, NGOs, and religious bodies to make the scheme work.
The Head of Research and Corporate Strategy at PenCom also highlighted some of the benefits the informal sector could reap by participating in the scheme, saying in addition to providing them income in their old age and inculcating a savings culture through highly protected and regulated investment, the scheme would afford them the opportunity to connect with other programmes of government while helping  finance infrastructure across the country.
They could as well use the balance in their Retirement Savings Accounts, RSAs, as equity contribution for residential mortgages and support their businesses and benefit from other micro-credit schemes and special awareness programmes affiliated to the scheme, he said.
He stated that additional benefits to informal sector workers included the cover provided under the Pension Protection Fund, PPF, explaining that under this arrangement, government would bridge shortfalls or financial losses from investment of their accumulated retirement savings and guarantee them minimum pension in retirement, irrespective of how much they were able to save before retiring.
Pension operators
According to him, this initiative would be funded by an annual subvention of one per cent of monthly wage of Federal Government employees, annual levy on PenCom and pension operators as well as pension fund investment income.
On his part, President NUTGTWN,  Oladele Hunsu said "PenCom is here to tell us how it plans to bring Tailors and other self-employed persons into the Contributory Pension Scheme and we are expected to share with them our experiences, concerns and observations on how to make this possible."
Corroborating, General Secretary of the union, Issa Aremu, recalled that National Provident Fund, NPF, that was established to provide pension for workers in the private sector was scrapped because of its shortcomings.