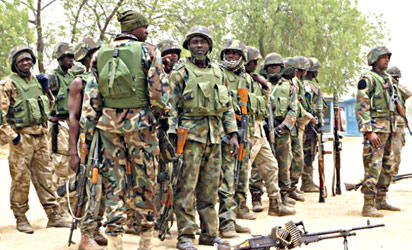 Nigerian Army
Abuja – The Federal Government said the current deployment of soldiers across the country was in furtherance of the objective to ensure peace, order and stability throughout the elections.
The Coordinator, National Information Centre, Mr Mike Omeri, said this at a news conference on Thursday in Abuja.
Omeri, who said there was adequate provision of security during the election period, called on Nigerians to abide by the restriction of vehicular movement as ordered by the police.
He, however, called on voters to be vigilant around the polling centres while exercising their franchise.
On the ruling of Federal High Courts barring the federal government from deploying soldiers, Omeri said government had not violated it as the soldiers would only assist in providing security.
"In this country, soldiers have never participated in an election; they do not carry ballot boxes, have you ever seen that.
"They maintain safe distance for the safety of the citizens and society. They only assist to re-enforce whatever arrangements put in place from a distance.
"The security officers who are designated by law to support the process have always been known to be the police,'' the coordinator said.
Also defending the deployment, the Force Public Relations Officer, Mr Emmanuel Ojukwu, said that the constitution empowered the president to do that.
"Under the constitution which is our supreme law, Section 218 gives the president the powers to deploy the military and there is no court in this country that has ousted that aspect of the constitution.
"Make no mistake about that.
"The law gives powers to the president to determine the operational use of the armed forces,'' Ojukwu said.
The force spokesman described the military as one of the stakeholders in the country.
He said the soldiers would maintain a distance of 300 metres away from the polling centres, and that in a situation of violence or disturbance, they might be called in to assist. (NAN)