By By Leke Adeseri, South West Regional Editor, Olasunkanmi Akoni, Franklin Alli & Monsuru Olowoopejo
LAGOS — The patron of Lagos socialites and sportsmen, Molade Alexander Okoya-Thomas, has died of an undisclosed ailment, Vanguard has learnt. He died yesterday, aged 79 years.
In a condolence message, President Goodluck Jonathan said the late business mogul "lived a very worthy and fulfilled life, and left a legacy of great entrepreneurial achievements for his successors to build on."
Okoya-Thomas was born in Lagos on 8 June 1935 to Late Hussam Okoya-Thomas (the first Baba Adinni of Furabay Mosque, Olowogbowo, Lagos and the first local staff of CFAO, who served the company for 52 years) and Late Alhaja Suwebat Okoya-Thomas (née Gbajabiamila, Otun Iya Adinni of Idita Mosque).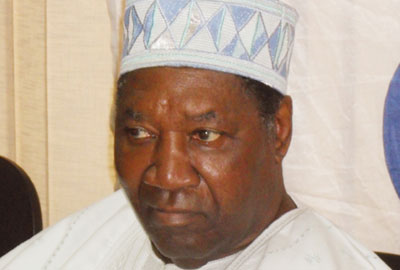 He studied at Princess School, Lagos, 1946; Balham and Tooting College of Commerce, London, 1956–1959; Columbia University, New York, US, 1981. He was appointed Director, Transcap Nigeria Limited; Director, Niger Motors Industries Limited; Chairman, Studio Press Nigeria Limited and has been the Chairman of CFAO Nigeria Limited since 1987.
Until his death, he was the Chancellor of Lagos State University, chairman of many organisations including CICA (Nigeria) Ltd., Transcap Nigeria Ltd., Oktom Investment Ltd., Itochu Nigeria Ltd., Chiyoda Nigeria Ltd. and Anchoria Investment & Securities Ltd. He also served as Director of NFI Insurance Company Plc and erstwhile Gateway Bank Plc.
He has also contributed to the development of Lagos State by serving in numerous committees including; member, Lagos City Council from 1971 to 1975, member Lagos State Development and Property Corporation, Chairman Board of Trustees Glover Memorial Hall and Tom Jones Hall.
He was a recipient of the Chevalier de la Legion d'Honneur, the highest national honour given by the French to a foreigner.
Molade Okoya-Thomas was an active sportsman in his youth; he was a Joint All Nigeria Record Holder of 4 X 220 yards relay race while at Baptist Academy Lagos.
He has been the sole sponsor of the annual Asoju-Oba Table Tennis Championships for over four decades, setting a record as the only Nigerian to have single-handedly and consistently sponsored a competition spanning over four decades.
As a philanthropist he similarly served as vice-chairman, Lagos State Sports Council, President Lagos Lawn Tennis Club, Chairman 3rd All-Africa Games Appeal Fund Committee, Chairman National Appeal Fund for Sports Development and chairman Sports Trust Fund. Molade Alexandria Okoya-Thomas built and donated a Modern Sports Hall for students and staff of the Lagos State University (LASU) in 2009.
He was also a prominent member of the fund raising committee for the construction of Teslim Balogun Stadium in Surulere, Lagos.
He was a model for present generation-LASG, LASU
The Lagos State Government and students of Lagos State University, LASU, yesterday joined others in the country to mourn the passing on of Okoya-Thomas, describing him as a model for the present generation.
Speaking on behalf of the Lagos State Government, Commissioner for Information and Strategy, Mr. Aderemi Ibirogba told Vanguard that the death of Okoya-Thomas is a great loss, not only to the Okoya-Thomas family but to the whole nation. According to him, "He left a virtue for the present generation. For instance, in spite of his status, he never arrived late to any event he was invited. This is one quality that this generation needs to emulate from him.
"He loves youths and until his death, he demonstrated his love for the youths through organizing and sponsoring the Asoju Oba Cup," he added.
Also, President of the LASU Student Union Government, Mr. Nurudeen Yusuf, said "We will miss him for his contribution to education. And it would be rare to see someone of his quality."
He was a visionary – Atiku
Former Vice President Atiku Abubakar yesterday reacted to the demise of foremost industrialist, Chief Molade Okoya-Thomas, saying the death is a huge blow to the community of Nigeria's businessmen.
Atiku, in a press statement by his media office in Abuja noted that the late Okoya-Thomas was a visionary and astute businessman whose contribution to Nigeria's private sector economy will remain indelible.
"Although the late Molade Okoya-Thomas left the stage at a prime age of 79, his death nonetheless is a huge blow to the community of businessmen in Nigeria.
"He was a pioneer and a visionary. Okoya-Thomas belonged to a generation of private sector investors who saw opportunities in making investments in the economy when it was risky to do so."
Ashafa mourns
Senator Gbenga Ashafa (APC, Lagos East) has expressed great shock at the demise of Chief Okoya-Thomas, descriping him as a great man of valour. In his condolence message, Ashafa added: "Molade Alexandria Okoya-Thomas MFR, FCNA, OFR, KSS, was a rare gem that left us when we needed him most.
"Chief Okoya was an essential of benevolence, notable business man, sports lover and a philanthropist of great repute. I remember too well that he was the Chairman of the occasion during my first born's wedding ceremony.  He would surely be missed by all of us . I pray that Chief Okoya Thomas gentle Soul Rest In Perfect Peace."
Jonathan sends condolences
Meanwhile President Goodluck Jonathan said he received with immense sadness, news of the death of the leading entrepreneur.
President Jonathan also extended sincere condolences to members of Chief Okoya-Thomas' family as well as his friends, associates, business partners within and outside Nigeria, and the people of Lagos where he held the traditional title of Asoju-Oba.
The President said he shares their pain and sorrow as they mourn the late Chief Okoya-Thomas who was also honoured in his lifetime with the traditional titles of Odofin of Ile- Ife and Bobasuwa of Ijebu-Remo.
President Jonathan urged members of the Okoya-Thomas family and all others who mourn the very successful businessman to be comforted by the knowledge that he "lived a very worthy and fulfilled life, and left a legacy of great entrepreneurial achievements for his successors to build on."
The statement signed by the President Special Adviser (Media and Publicity), Dr. Reuben Abati recalled that Chief Okoya-Thomas will also be long remembered and honoured as a very generous philanthropist and sports enthusiast who established the popular Asoju-Oba Table Tennis Championships.
He was a bridge-builder, says LCC
The Lagos Chamber of Commerce and Industry, LCCI, described the dead industrialist and philanthropist as one who "Contributed immensely to private sector development through his various investments."
In the words of Muda Yusuf, LCCI Director General, "Okoya Thomas was a bridge builder between the public and private sector s in Lagos state. His role in the development of sports is no less remarkable."
He was in the league of Odumegu-Ojukwu , Odutola, Dantata – NASME
Nigerian Association of Small and Medium Enterprises, NASME, described his demise as "Very shocking to the business community!"
Eke Ubiji, Executive Secretary, NASME, noted that Okoya Thomas's business strides in life stand him out as an outstanding and accomplished entrepreneur/industrialist. He was in the league of Lewis Odumegwu-Ojukwu; Chief Odutola and Alhaji Aminu Dantata just to mention a few.