By sola Ogundipe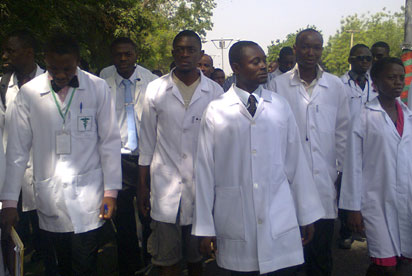 The law if ​​Federal Neuro-Psychiatric Hospital, Yaba, Lagos has urged healthworkers to return to work immediately in the interest of the patients who are the centre of healthcare in the sector.
Expressing mixed feelings of joy and sadness over the development, Medical Director, Federal Neuro-Psychiatric Hospital, Yaba-Lagos, Dr. Rahman A. Lawal, said the strike action which started about three months ago is getting too long and has affected patients who desperately needed our professional services.
JOHESU embarked on indefinite strike action on 12th November, 2014 to protest among other issues what they called non-implementation of memorandum of understanding with the Federal Government and the release of circular which contains adjustments of salary since January 2014.
He noted that a presidential committee of experts on inter-professional relationships in the public health sector led by Alhaji Yayale Ahmed was constituted by Federal Government to take a holistic look at the crisis which is well over four years now with a view of finding a lasting solution. Appreciable progress has been made and the task of the Committee has been concluded. Efforts are underway for the release of government white paper on the Committee's report.
Lawal said it is noteworthy to mention that some of the issues which the union is agitating for its members are important. The Union is however advised not be confrontational or physical in the way they press home their demands for improved welfare for their members and to refrain from acts that may be inimical to the services rendered by other workers who are not on strike.
At a meeting last January, between the HODs and Management of the hospital, a passionate appeal was made to the Union through the HODs to suspend or even call off the strike in the interest of the suffering patients and their relations. The HODs were also enjoined to encourage their subordinates to return to work and ensure that all service windows in the hospital are well manned at all times.
All through the strike, Lawal said the hospital is still operating skeletal services in the out-patient and emergency clinics, Pharmacy, Psychology, Social-Welfare, Radiology, Laboratory, Maintenance departments among others, with the help of doctors who are not on strike and some members of JOHESU.
"I therefore wish to plead with JOHESU to show good understanding and return to work in the overall interest of our numerous patients who bear the brunt and whose care, survival and continued existence lies basically in our hands."