By Babajide Komolafe
Bureaux De Change (BDC) operators has commenced moves to resolve the lingering leadership crisis in the Association of Bureaux De Change Operators of Nigeria (ABCON)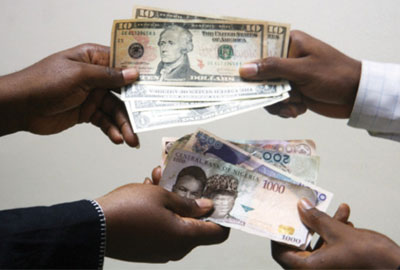 Rising from a stakeholders meeting of BDCs in the South West zone, the operators adopted four resolutions aimed at restoring peace to the Association. Since last year, some members of the Association's Board of Trustees and the Executive council have been locked in legal battles which have grounded its operations.
But on Tuesday, some concerned BDC operators, under the aegis of BDC Stakeholders Committee in South West, convened a stakeholders meeting of BDCs in the South West zone in Lagos.
Addressing the meeting, Mr. Abdul Rasheed Amao, CEO, A&S BDC, and  a member of the Stakeholders' Committee,  said that the leadership crisis had denied BDC operators of a voice to speak on their behalf at a time such voice is needed most. He said the meeting was convened to allow BDC operators brainstorm on the way out of the leadership crisis.
Consequently, BDC operators at the meeting considered four resolutions for adoption. Thereafter, Mrs Mojisola Adesanya of Anchoria BDC moved the motion, calling the warring members of the Board of Trustees and the Executive council to withdraw the court case at the Supreme Court and settle amicably. The motion was seconded by Mr. Okai Agare of Green House BDC. The second resolution was moved by Prince A. Ajayi  of Double K BD and seconded by  Ndubisi of All Saints BDC. The resolution called for an Emergency General meeting of all stake holders nationwide.
This was followed by another resolution by Benjamin Oje, seconded by Ken Ajurichi of , mandating the Stakeholders Committee to develop the agenda of the proposed  EGM. The fourth resolution mandated the Stakeholders Committee to  meet with Mr. Bamidele Adiesa,pioneer chairman Board of incorporatedTrustees ,other members of pioneer Board of Trustee and four members of stakeholders committe to resolve the lingering issue.  The motion for the resolution was moved by  Mr. Osita and Engineer Nze.
The resolutions were adopted via a voice vote by all BDC operators that attended the meeting. The stake holders meeting also resolved to checkmate the falling fortune of the naira  in support of the monetary policies of the CBN. Further, the operators expanded the membership of the Stakeholders Committee from seven to 11. Members of the Committee are: Abdul Rasheed Amao of A&S BDC, Moses Ebitu of Mat-Arni BDC, Alhaji  Ibrahimm Alli Seabril BDC, Nduka Vincent of Agnus Dei BDC, deyiga Samson of Stand-Out BDC, Abubakar Mohammed of Forward Marketing BDC, Eyinla Emilia of Aexel BDC, Onyema Esther of Coolsworth BDC, Ken Ajuruchi of Finance Bridge BDC and Osita Agoms of Maroon BDC.