POpular Yoruba actress of Aristo fame, Iyabo Ojo has confessed to Potpourri in a private BBM chat that her new movie 'Silence' premiered some weeks ago and currently showing at the cinemas across the country cost her several millions of Naira. The film which gives lucid picture of child abuse in our society and it effects on the victims, has been largely applauded by those who have seen it for its its uniqueness in production quality and plot.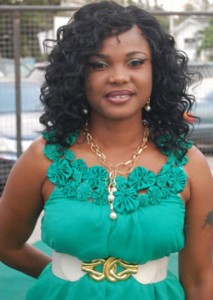 Without disclosing the actual amount that went into the production of the movie, she told Potpourri the movie gulped millions of naira. "Several millions went into the production of the movie. I don't want to disclose the actual amount but it gulped some millions," she said.
Child abuse experiences
According to her, the script was inspired by cases of child abuse experiences that were shared with her by some women she had come across. "Few young ladies I have come across told me their stories, how they were abused as a child. They told me of different side effects it had on them and how scared they were to share it with their families and close friends. I wrote the script myself," she explained.
Adding, " Silence is particularly special to me because it is my first English movie with a little Yoruba content. It also treats one of the most sensitive problems in Nigeria- child abuse.
One movie buff who has seen the movie has this to say: " The story is not the normal Nigerian Nollywood story, brilliant plot,good acting and I give it to Iyabo Ojo and her crew for putting up such a project.The two people who 'killed' the movie with their great acting are Joe Benjamin and the girl that played Iyabo's daughter". The movie stars Iyabo Ojo, Priscilla Ojo, Joseph Benjamin, Alex Usifo, Tina Mba, Bukky Wright and a host of others.