Ephraim 'Shakes' Mashaba has never lost against West African opposition while coaching Bafana Bafana and believes his team can do it again against Nigeria on Wednesday.
Mashaba faces a major test in his second full-time tenure in charge of the national team when they face Nigeria in an Africa Nations Cup Qualifier in Cape Town on Wednesday evening.
After overseeing a comfortable 3-0 away win over a poor Sudan side on Friday, the prospect of facing the reigning African champions Nigeria seems a much more difficult challenge, especially as the Super Eagles surprisingly lost 3-2 at home to Congo on Saturday and will be determined to bounce back strongly.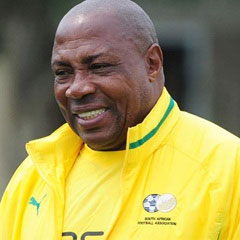 "I know that Nigeria does not like it when you press them and mark tight and this is how we will approach the game. I am confident that my team has what it takes to win, and I hope they can take what we have done at training to the game," Mashaba said.
Mashaba has never overseen a Bafana Bafana team in a match against Nigeria, but he has come up against West African opposition on three occasions and is yet to taste defeat.
The first was a 2004 Africa Cup of Nations qualifier away to Cote d'Ivoire in September 2002. The match was hosted in Abidjan and is best remembered for being Elephants legend Didier Drogba's international debut.
Next up was a friendly against Senegal in November of the same year for the Nelson Mandela Challenge. The match ended 1-1 after goals from Shaun Bartlett and Mamadou Niang.
Shakes' last match against West African opposition was the return AFCON qualifier against Cote d'Ivoire in June 2003. South Africa won 2-1 in Polokwane thanks to goals from Bartlett and Siyabonga Nomvethe.