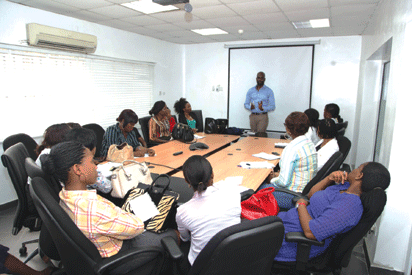 *Fashion Entrepreneur, Mai Atafo, addressing UNILAG students during the "Take A Girl Child to Work" initiative organised by South African High Commission in partnership with MultiChoice Nigeria held at MultiChoice Head Office in Lagos.
BY DAYO ADESULU
IN a bid to help lift up the Nigerian education system to the mainstream of global digital revolution, Sidmach Technologies Nigeria Limited has partnered the National Educational Research and Development Council (NERDC) to introduce a new software solution called NERDC e-Curriculum Portal.
The new e-Curriculum portal is being launched in Abuja Tuesday with the Minister of State for Education, Barr. Nyesom Wike and other key education stakeholders as special guests.
Expected to signal a new era in Nigeria's education development, the e-Curriculum solution is said to be a complete teaching and learning tool which makes teaching and learning easier, faster, better, anywhere and anytime. The solution provides an interactive, analytic and collaborative learning environment for teachers and students.
According to Mr. Hassan Alao, the Managing Director of Sidmach Technologies Nigeria Limited, the "e-Curriculum is the curriculum in an electronic and accessible online platform. All of e-Curriculum's features are browser-based which allows schools, teachers, students and general public anytime-anywhere access to curriculum-based information depending on the role of the user. We are creating a new culture of learning in Nigeria. I tell you, a teacher in front of 30 students can't penetrate individual student as much as technology will do".
It is also affirmed that the e-Curriculum Portal solution makes the curriculum available in electronic format and provides downloadable Curricula for Schools. The e-Curriculum also provides contents to aid teachers in preparing scheme of work and lesson plan. It makes structural contents available to teachers, students and stakeholders.
Sidmach Technologies is known for bringing about innovations in service delivery in the educational sector. Sidmach started the e-Registration with WAEC and JAMB. The company is also working with WAEC and JAMB to stamp out impersonation in examinations using biometric technology.
The Executive Secretary, NERDC, Prof. Godswill Obioma, said the present effort at developing an e-curriculum portal was based on a public private partnership model.
He said the initiative was borne out of the fact that when government provides the enabling policy, development in its generic manner could flourish tremendously.
Obioma said, "The objective of this PPP arrangement is to, among other things, harness the potentials of the private sector in tackling the challenges of access, education standards and quality, curriculum and teacher development, funding, as well as re-orientation for positive national values.
"It is this belief that yielded the present collaboration with SMIDACH Technologies Nigeria Limited for the development of the e-curriculum for senior secondary education. It is hoped that similar efforts will be invested in the revised nine-year Basic Education Curriculum subsequently."
The company has won several notable awards, among which are ICT company of the year – Titans of Tech Award and Indigenous Software Company of the year – Beacon of ICT (BOICT) Awards.
"It is this belief that yielded the present collaboration with SMIDACH Technologies Nigeria Limited for the development of the e-curriculum for senior secondary education. It is hoped that similar efforts will be invested in the revised nine-year Basic Education Curriculum subsequently."