Speaks on the role critical segments of society will play
Why Ekiti election is different'
Governor Rauf Aregbesola of Osun State is beating his chest that his administration has performed creditably in all sectors of the state to justify re-election in the August 9 poll.
Aregbesola, in this interview, also speaks on the militarisation of the state ahead of the election, saying the people will not be conquered by what he described as anti-democratic forces.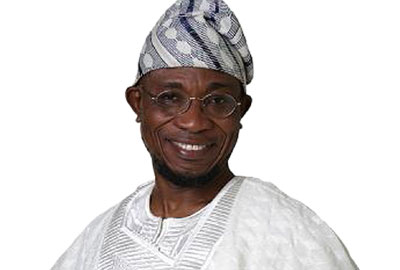 The governorship election in Osun State is few days away. How prepared are you to ensure that there won't be a repeat of what happened in Ekiti?
The real issue is not about you as a candidate but the quality of the electoral process. Once the quality is good and high, whatever the people say, they are the ultimate decider of who represents or governs them. A democratic choice is expected to be correct, good and right but it is not always that the choice is good, correct and right.
But to answer your question properly, I have prepared so well for the office in a way that going by the normal run, I should not be working as hard as I am now for re-election. Why we are different from them is that we have always been with the people from day one of our administration.
How many governors walk the streets with their citizens? I have been doing that since the first month in office. How many governors create  interactive forum in Nigeria before me? None. I was the first governor that devoted close to ten hours of continuous engagement on quarterly basis with the citizens. The people ask any question in no barred hold atmosphere.
The Ogbeni Till Day Break is a worldwide engagement because we take feedback from the social media. The Gbangba Dekun is a monthly community interactive forum where the governor sits with all stakeholders in the community to ask or make inquiries on any issue. This is the picture of direct engagements that we are doing with the people that no government in Nigeria has ever attempted to do.
We also have a carnival-like procession in Walk to Live where we just walk round the communities and it is too engaging and popular because everybody wants to be with the governor. Hardly is there any community in this state that I have not touched personally.
In terms of physical and social services, this is the first government that will say that there is no household, be it PDP, APC and others, that our programme has not reached. I feed 300,000 pupils every school day at the cost of N3.6 billion a year, I have been doing it since 2012 and I have spent N7.2 billion on that.
Long before we commenced the feeding arrangement, we empowered poultry farmers to produce poultry products so that the chicken and eggs the children consume are sourced from them. We gave close to N600 million to the poultry farmers and also fish farmers. The only people we buy from now are the cattle rearers.
We have the second batch of O'Yes cadets, the first batch of 20,000 has gone, the second  batch of 20,000 is on. They work two or three days a week and they have the entire days of week left for them to see what they can do with their hands and earn a living because they are taught entrepreneurial training but they earn N10,000 monthly as cadets. On this scheme alone, this administration has spent N9 billion.
We are one of the few governments that develop a meaningful programme for elderly citizen's care. We are not into a blanket social welfare scheme for the elderly, we have a package that did an extensive survey of citizens that are 65 years and above, we have them in our database. We now identified those among them that are without any support.
We identified 1,800 of such people. The selection was purely based on their conditions, no primordial sentiment. We didn't do the selection anyway, Professor Ogunbameru of OAU administered everything, gave us the list and the addresses. We have been giving them N10, 000 monthly since 2012.
We have ambulance points everywhere in the state now working 24 hours. We just launched debit card with cash between N100, 000 and N150, 000 with which farmers buy farm inputs at their doorsteps. They will buy on guaranteed credit and pay back with either their commodity or they sell and pay back.
How prepared are you to combat the heavy security presence in the state?
It is not just voting that is democracy. Everything pertaining to the capacity of the people to vote or not to vote and to freely decide what they want must be of interest to all of us. Whenever that right is abrogated, it is a total assault on democracy. And we cannot call that democracy.
The fact that they disallow air of freedom greatly affected the quality of the democracy we are talking about.  The militarisation of the state is not one man's job. We owe it a duty to let the whole world know what is happening here. This is against the right of the Nigerian people.
We've all forgotten that we pay the salaries of the security agencies. We don't pay for them to wear mask in our towns. They should only wear masks when they engage terrorists and if they have to operate in a region where seeing them might compromise their own safety and security. What would they say is the reason for what they are doing now other than threat, shock and awe? So, what this means is that they want to conquer and cow our people, which is a direct assault on democracy. I won't take gun against them but I will not be quiet.
I believe that your supporting us to highlight this horrendous bent of the Nigerian federal authority to use all means at its disposal to cow our people must be condemned. We should all talk and condemn it because this is not about Aregbesola alone. You people may not have any press office to work with if this continues. Don't think it will stop there. By the time they finish with the press, they can say you should not even go and buy yam to eat somewhere. Everything will be affected.
Is your administration in good terms with the four critical sectors, namely teachers, civil servants, Okada riders and students who will vote?
Most people don't even know how to assess relationships. They assess it from the complaint they get from dissatisfied section of a critical lot. It cannot be. It is impossible for human to exist without conflict. The Yoruba has an idiomatic way of expressing it, they say teeth and tongue fight but they are always still together. A sociologist in human relationships would not therefore base his assessment of any sector on when there is disagreement. Let us look at what we have done and then situate our relationship within it, though some people, for whatever reason, do not just like you.
I was telling someone that what should concern you is not those who are opposed to you especially as it gets to the run-up to election. When you are still far from it, you may be bothered so that you can make it up. But when no matter what you do, that is their attitude, you just stay put. From the newspapers, there are not less than 20 parties seeking power, democratically. If you have 60 per cent, it does not mean you don't have opposition.
The 40 per cent who doesn't want to see you and may cut your head if you are careless not only voted against you. If you have 60 per cent, you are home and dry. In a struggle with other stakeholders, six is a good number. What we are doing is to ensure that each of these critical sectors doesn't have any basis at all to be opposed to us.
Let us start with the students: we met a condition when we came in that students were given a bursary of N3, 000 and they won't even get the bursary on time and it was full of scam. They brought it to me to sign and I said why do I have to sign N3, 000 for anybody? It's best if we don't give this bursary or we give it meaningfully. We raised the bursary to N10, 000 flat. For medical and law students N20, 000 while our indigenes in Law School get N100, 000. The school authorities give the money to students in their system.
I don't see how such students will hate us in the majority. Whoever now hates us has something else against us not for the fact that we have not done the needful.
How about Okada riders?
They have no problem with us. They may want us to do things for them as we have done to some other groups, but it is not as if they said compared to others, these are the problems. The roads here are appreciated even by those who walk. Has any government succeeded in constructing 200 kilometres of road in all nooks and crannies of the state?
There is no part of this state that we have not constructed  a new road and it's not just any road but roads with concrete drainage, with stone base and kick asphaltic cover and, above all, when I get to campaign grounds, I say our roads have tribal marks. In all general roads, we have roads with marks. We now have special roads, when we complete some of them, they will be tourism attraction and centres on their own.
Before our advent, the civil servants never knew that salary could be paid before the end of the month. We  changed that. Before the year ended when I assumed office, I paid 10 per cent of their basic as 13th month salary and paid December salary before the end of the year, the civil servants were dazed.  Since that day up until December 2013, I paid salary on or before the 25th of every month. But as from January 2014, we ran into trouble which we explained to everybody six months before then. In July 2013, the Federal Government began a squeeze that they themselves know that nobody believed them.
They said 400,000 barrel of crude oil is being stolen every day.
We didn't know problem was coming. Instead of collecting N4.6 billion, they gave this government N2.6 billion, 40 per cent slashed. We thought it will be temporary because after that month, they said the stolen crude has reduced to 200,000 barrel per day. When the oil being lost reduced, would you still expect a 40 per cent cut? From that July to now, the maximum allocation this state has ever received is N3.2 billion which was in November 2013.
Now ask me how was I able to pay up until December 2013? My people are called Osomalo- they are very adept in the management of money and I took this from them. I had been saving through the Omoluwabi Conservation Fund in which 10 per cent of all allocation must just go and rest. So, I had money in reserve, which was a build-up for my refusal to form cabinet for 10 months.
Whereas my income fell to N2.6billion at the lowest and N3.4billion at the highest for a month, my statutory expenditures I have no control on. For instance salary, pension and they are N3.6 billion every month. Between July and December, I augmented my income with N5.4billion.
All in the hope that this thing will go, it didn't go. It has not gone as we speak, it is even worse.
I told you earlier that I gave 10 per cent of basic salary as 13th month salary; the second year I gave 25 per cent; the third year I gave 50 per cent; the fourth year, I gave 100 per cent. So, why should any worker say I am not friendly with them?
Before, workers here were given leave allowances en bloc at the end of the year. I told them this is unreasonable because we don't go to leave at the same time, so choose when you want your leave allowance to be paid. Is it at your birthday or the anniversary of your employment into the service?
I am happy to tell you that majority of our civil servants see and appreciate what we are doing. We increased their car loan by 400 per cent; we increased housing loan by 100 per cent.
For 36 out of 43 months, we have been paying regularly, let's even assume that there is a problem of delayed payment now, I cannot believe all the workers will be against us because I have done my best. If the demonstration of interest of workers in their remuneration and allowances counts, with what we have done, I don't think they will be against us.
I read the advert they published and I laughed because it indicted them. They wrote that my income was N2.8 billion and this is what I have to pay, N3.4billion, and pegged it with state and local governments. There is no way I can touch local government account because it is separate and distinct.
Teachers
Our teachers are now very well motivated such that you cannot distinguished between  them and bank workers. When you see a teacher in Osun before, you knew. They were so depressed, unmotivated and had no facilities. Our teachers now appear corporate. It is not that there won't be some of them who, for whatever reason, don't like us but they are in the minority.
There is no household in this state that does not feel our impact. We are talking about how to make education the central focus of our administration because I am no longer thinking of now but we want to create a new set of Nigerians on which a new society would be born and we can't do it on what is there now. Mine is the first government in Nigeria to give free uniform to students.
The first government that will say that you don't need to buy textbooks for your children in the high school, Opon Imo targeted 150,000 students. One of the attractions is that it reduces the cost of book. It  cost us to procure the e-book N200m; 53 books. If you divide N200 million by 53, you will get the cost  per book.
If you now divide the outcome with 150,000, the cost of the book is N2? Opon Imo should be celebrated  because it reduces the capital outlay on books. Tell me any government anywhere in the world that can provide eight textbooks free of charge to students. How many parents can buy all books required by their children? We have changed this by putting into the hands of all our students in high school a library of 53 textbooks.
Our students keep it with them, go home with them, and sleep with them for as long as they are in school. That was why I said that we had saved  our state N8 billion to procure books for students. Immediately they heard that, they said Aregbesola has stolen N8 billion. That was the genesis of the money they said my son took from Opon Imo.
What is your perception about the term, Stomach Infrastructure?
To those who people who are elite and are therefore separated from the people, this term may make a new meaning to them. I am a product of the popular forces, the people and I am part and parcel of them. I emanated from them and a product of their struggles. What is now known as stomach infrastructure is what we know as interaction, engagement, living with the people and meeting their aspirations and needs.
That is what we have been doing from the very beginning of this administration; I feed the children. The Akara seller knows that I feed her child every day.  I identify with them on daily basis in their struggle to live and they understand that everything we do is to make life easy for them. My administration does not suffer alienation from the people, it is one and same with the people and that is the basis of our confidence in their ever ready support at all times.
Is there any aspect of the state that you think you have not touched?
There is no trade, commercial or social group in the state of Osun that we have not impacted.  There is no aspect. Apart from Lagos, we are the only state government that has an emergency call centre but has been made dysfunctional because the Federal Government just refused to give us short code to make it work.
I am telling you  how totally insensitive some of us are to the critical issues of our people. Whether you are APC or PDP, is it your commitment not to improve the lot of your people? And when you get to these offices, you must  shun partisanship because you have sworn to an oath of allegiance to the Constitution and service to the people.
I challenge anybody to say that my programmes are discriminatory? Why should it be anyway, are they not our citizens? We have a nation to build and a people to serve.