Stories by Kingsley Adegboye
Lagos residents have been assured by the state government that it would intensify and sustain its all-year round de-flooding programme consisting of pre-rain, mid-rain and post-rain strategies to provide relief measures this rainy season.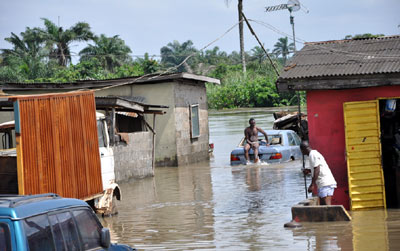 The State Commissioner for Environment, Mr. Tunji Bello, who disclosed this at a media parley in the Ministry last week, said despite severe rains recorded around the state within the last one month, there was no single case of ravaging flood recorded in any part of the state.
Bello pointed out that the state government has been able to achieve this feat through intensification of its mid-rain cleaning and maintenance programme which has reduced the incidents of flooding in the state this rainy season.
He stated that the state government has kept faith with its de-flooding programme which has been sustained by the present administration and has continued to yield positive results across the state.
He noted that unlike what obtained in the past, it has rained persistently in the last one month without the state recording   massive flooding and destruction of property, adding that maintenance of primary channels, secondary and tertiary drains was carried out on 108 drains totaling 107,350.00m across the state.
According to him, in Agege Local Government Area, seven drains of 4,438.00m were routinely maintained; three channels of 4,034m were maintained in Ajeromi Ifelodun, while a total of 8,671m channels were maintained in Alimosho Local Government Area, among others. He explained that "as we are in the peak of the rainy season, Lagosians should cooperate with the state government by participating actively in the cleaning of drainage channels in their immediate environment in order to allow for easy passage of storm water.
"We call on the people of the state to complement the effort of the state government by cleaning tertiary drains and gutters in their frontages and neighbourhoods regularly and not only on monthly environmental sanitation days. Similarly, Lagosians are advised to embrace the waste management policy of the state government by patronising LAWMA and PSP refuse operators for the disposal of their solid waste," Bello advised.
The commissioner reiterated that in its usual responsive and responsible approach to the safety of its citizens, the government has put in place proactive measures to contain flooding during the rainy season, with all-year round strategy designed to address emerging challenges during and after the rainy season.
Explaining the modus operandi of the strategy, Bello said this strategy include: Pre-Rain De-flooding Programme which takes place between January andApril every year; Mid-Rain De-flooding Programme which is between May and August; and Post-Rain De-flooding   Programme that takes place between September and December.
Other strategies highlighted by the Commissioner include the dredging of primary channels and secondary collectors and lining as well as expansion of existing drainage channels to accommodate higher volume of storm-water. He also said that the ministry would ensure the strengthening of the Resident Engineers and Drainage Maintenance Officers who were appointed last year to oversee drainage matters in all the local governments and local council development areas of the state.
While promising to scale up effective liaison with NIMET, river basin authorities and other Federal Government agencies, Bello explained that massive dredging and maintenance and cleaning of channels have been going on throughout the state since December 2012 and would continue.