SINCE former governor of Jigawa State, Ibrahim Saminu Turaki, handed over power to Alhaji Sule Lamido in May, 2007 the two men have maintained a distant if not mutually suspicious relationship. Now, their paths are about to meet
By Aliyu Dangida
The eight year-year tenure of Senator Saminu Turaki as governor of Jigawa State was shadowed by several controversies, including mutterings over his several travels and scientific whims. He was regarded as the Nigeria's most widely traveled governor in his time with a reputation of rarely spending 30 workings days at a stretch in the country.
Notwithstanding, Turaki's supporters say he did much to develop the state during his reign. They readily cite the creation of the monthly participatory polling unit funds that empowered 10 delegates in each of the local councils of the state to execute some projects, annual sponsorship of people to Hajj, IT education, girl-child and basic education and paying priority attention to human development than infrastructures.
Turaki, in an interview with newsmen, accused Lamido of paying more attention to infrastructural development to the detriment of human development. He was quoted as saying that his politics is people-oriented and focused on development through empowering the people. "I foresee abject poverty in the face of Jigawa people…
"If you are building roads, houses or schools, you are doing it for the people, so you have to meet the immediate needs of the people before they can live to enjoy those things you built for them. You have to survive to be able to benefit from the roads and schools".
Many stakeholders in the state, however, point at the infrastructural development achievements of Governor Lamido as a better reference point for development.
Lamido, they said has equally instilled discipline in the mind of Jigawa people as well as rehabilitated thousands of delinquent youths by establishing skills acquisition centres for them to learn various trades as well as the payment a monthly stipend of N7,000 to the destitute across the  27 local councils of the state.
2015 rekindles rivalry
Though the incumbent and his predecessor had lately maintained the peace from their separate political positions, however, the approach of 2015 has stoked the rivalry between Lamidiyya (Lamido) and Saminiyya (Saminu) followers as they fight for supremacy within the state PDP.
The crisis between the two political giants in the state deepened when Turaki's supporters organised a reception for him at his farm at Bandawa.
The event was interpreted by political analysts as a signal to Lamido's camp that Turaki is still politically relevant in the state. Senator Turaki has constantly insisted that he is the leader of the party in the state because he brought Lamido into power in 2007
Turaki used the occasion to launch his Saminiyya Movement with green cap and white Agbada as their symbol. Considered a loyalist of President Goodluck Jonathan, Turaki is said to have initiated the movement to fight Lamido ahead of 2015.
However, Turaki debunked the insinuation, saying he is back in Jigawa not to fight Lamido but to show concern and care for his people.
After ruling the state for eight years on the platform of the All Nigeria Peoples Party (ANPP), Turaki decamped to PDP along with some of his supporters and cabinet members in 2007 and won election as senator representing Jigawa North-West. He in 2011 dumped the party for the defunct Action Congress of Nigeria (ACN) and lost his senatorial seat to Danladi Sankara.
Turaki's defeat in the senatorial election  might not be unconnected with his alleged poor performance, as his people accused him of running away from them during his four years tenure with little or no single project to show on ground.
Romance with APC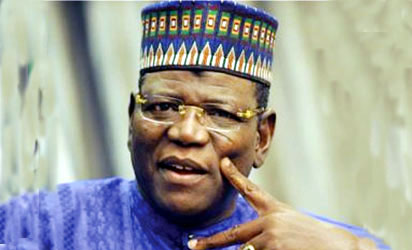 However, political pundits are of the belief that Senator Turaki may be on his way to the All Progressives Congress (APC). His former parties, ANPP and ACN merged to form APC. He has not left PDP but he is always with members and exco of the APC and at times represents some political office holders of the party in occasions.
Asked which of the political parties he belongs, Turaki replied that he is with Saminiyya. However, he was seen along with his supporters mobilising  for President Jonathan across Jigawa state ahead of 2015.
As the crisis in the PDP deepens, many see Lamido as succumbing to pressure. As it is now, Lamido is threading carefully between his 2015 ambition and consolidating his powers in the PDP. Turaki, according to some political pundits, is rallying old political enemies, who now feel they are left out or abandoned in the scheme of things in the state to take over PDP political structures in the state and select one of them to run for the 2015 governorship seat in Jigawa.
Governor Lamido's inability to 'anoint' a successor publicly has also added a twist to the jostling as many aspirants are scared to publicly indicate their interest for the Dutse Government House.
Governor Lamido was recently quoted at a public function saying, "very soon Jigawa people will know their 2015 governor, adding his successor will be an independent person not his errand boy, not a thief, but someone who can continue with my legacy and carry everyone along irrespective of political and emirate background."
If the governor's camp succeeds in producing the PDP standard bearer, the Saminiyya camp may resort to option B by joining the rival APC.