By CHIOMA GABRIEL
WHen the Chairman, PDP Board of Trustees (BOT), Chief Tony Anenih last week  announced in Calabar that President Goodluck Jonathan would contest the presidential election in 2015 on the platform of his party, many were not surprised. It was an open secret.
But others wondered if Anenih considered the many issues that could cause obstruction to Jonathan's re-election bid. From Boko Haram, to the kidnap of Chibok girls, molehill of alleged corruption, some of the issues surrounding the Jonathan administration are as strong as death.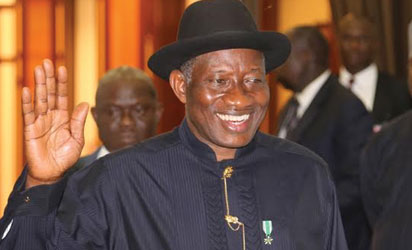 At every point since he enthronement even as acting president, President Jonathan seems to have had one challenge or controversy almost always around him.
Remarkably, his administration has now been adjudged in some quarters as the weakest and the most challenged in the history of the country.
It is thus not surprising that the opposition has since its advent played up the negatives of the administration focusing on major sore points of the administration as insecurity, poor infrastructure and unemployment. The last is perceived by many as a time bomb that may explode in no distant time as more graduates are being churned out of tertiary institutions annually without any hope of profitable engagement.
Meddlesome opposition
The APC has persistently painted the administration as one that swam in corruption and lacked self-respect noting that its foot soldiers were people who had been shown to have been indicted for corruption.
For instance, when Dr. Okupe claimed government will generate 780,000 jobs through the 'Young Graduate Employment Scheme' and 5,000 jobs in each of the 36 states through SURE-P, opposition advised the teeming young graduates who have no jobs not to allow themselves to be hoodwinked by this promise, advising them to remember that this same administration promised to create 10,000 jobs in each of the 36 states through SURE-P in the past but couldn't do so.
Jonathan severally got knocks on every issue ranging from security, conflicts, politics, governance, infrastructure and the opposition which threatened to make Nigeria ungovernable and made good their threat recently threatened to form a parallel government should Jonathan win 2015 presidential election.
Boko Haram
If there is anything that has affected the Jonathan administration more, it is the insecurity situation in the country. Since 2010, the Nigerian nation has almost on a daily basis experienced violations to life and property in the hands of the Islamic Boko Haram sect.
While some people believe that the insurgency is a result of social, religious, economic, and political imbroglio, the agenda of the insurgency in Nigeria is turning into a mystery. It had claimed to be anti-west and focused on the establishment of Islamic rule.
Nigerians, especially majority of Christians and even some Muslims who were of the view that Boko Haram represented an Islamic agenda had challenged devout Muslims to find means of curbing the nefarious activities of the sect that that has portrayed Islam in bad light.
But it is increasingly becoming clearer to Nigerians and the international community that Boko Haram was just a criminal gang using the name of Islam to perpetuate evil.
The bombings and killings in the north have degenerated over the years to the point of kidnapping school girls and taking over of an entire community, Gwoza by the terrorists. Nigerians are waiting to see how government translates its promises to secure their lives, meet its promises of increased power supply, implement its job creation strategies, reconstruct the nation's landscape for better transportation, and boosts agricultural production for a better nourished populace.
Thousands of people have been killed in terror attacks in the North since the insurgents came on board.
Kidnap of Chibok girls
This is perhaps, the greatest tragedy of the Jonathan administration. The abduction of about 300 Chibok school girls and the subsequent inability to rescue them have continued to generate outrage both at home and abroad. This is distasteful news to a country where, already, 10.5 million children of school age are out of school, and where no more than four per cent of girls in the North-East of Nigeria ever manage to complete secondary school.
Protests have come and died but the problem is beyond what money can buy. There is no alternative to life and compensating the parents of the girls with money does not solve the problem when the girls are still alive and can be rescued.
The worst part of the story is that despite assistance by the international community, nothing has come out of it.
Recently, the Northern Elders Forum (NEF) advised President Jonathan to forget his re-election in 2015 if the abducted schoolgirls are not released before the end of October.
The forum alleged that the frequent communal clashes in the north were engineered to weaken the region politically and economically as a way to exploit such weaknesses for electoral benefits in 2015.
The NEF in a statement signed by two members of the forum, Mr. Solomon Dalung and Dr. Hakeem Baba Ahmed, had accused the presidency of lacking the will to fight insurgency even as it decried the deep-seated corruption and incompetence in the country, which it said has "allowed a band of terrorists to take and hold vast parts of our land and population hostage, while every citizen lives in fear that they will be its next victim. The security situation in our nation today represents the most serious threat to our individual and collective lives in our entire history.
Consistent identity
"The reality is that the threat posed by what appears to be an insurgency that has many manifestations and defies a clear and consistent identity is growing due to the absence of a clear national consensus over its nature and its solutions.
"In the light of our firm conviction that the insurgency and related security challenges pose a threat to the 2015 elections and the survival of our nation, we strongly advise President Goodluck Ebele Jonathan to bring an end to the insurgency in all its manifestations and produce the Chibok girls before the end of October, 2014.The circumstances under which our fellow citizens in and around Gwoza in Borno State in particular live and die will not be tolerated by any people who have a government and a leader who swore to defend them, and they must be reversed immediately.
"If President Jonathan fails to do this, Nigerians will be left with the only conclusion that he has forfeited his right to ask for our mandate beyond 2015. At all cost, the 2015 elections must be free and fair. This means that any threat which may provide a cover for militarising the electoral process must be eliminated before the elections. Every part of Nigeria must participate in these elections, and no citizen should be deprived of his or her right to vote under any excuse," the forum said.
Rotation of power
As 2015 general elections draw closer, the fact that the "North" is strongly opposed to Jonathan's 2015 presidential ambition is becoming more vehement. The actions and inaction of those who claim to represent and speak for the north have become more glaring to political observers. So many voices are rising from the north in the bid to stop Jonathan's ambition for 2015.
To these northerners, Jonathan by the doctrine of necessity has served Yar' Adua's two-term in office and contesting another term would be a third. For the North the strident opposition to Jonathan's re-election could backfire and garner more support for Jonathan from the south.
His Patience
Behind every successful man is a woman and for any problem a man encounters in his life time, a woman somewhere must have played a major role. Anywhere Jonathan's success story is told, Dame Patience will be featured prominently. She is part of his success story and part of his problems. She is his asset as well as his problem. There is nothing Nigerians have not used Dame Patience Jonathan, the beautiful wife of the president's name to do. Cartoonists, comedians, political critics have found in her a viable weapon both for their jokes and against her husband's government. The issue is, Dame Jonathan does not appear to understand when to lend a hand to her husband and when to stand aside. But what she did well or shouldn't have done was with good intent. Unfortunately, Dame Patience Jonathan has not learnt lessons from some of her careless outbursts. And her assistants perhaps contributed to the problem by not advising her that sometimes, silence is golden.