By Ochereome Nnanna
As a writer I get all sorts of feedbacks through text messages, emails and phone calls. Some say nice thing, others go the other way.
Some are truly educative while the others can give you a headache trying to reason them through. Some praise you unnecessarily, while others are unbecoming, implacable and bitter.
That is how it should be. That is what makes the work of a columnist or communicator worthwhile. It does not matter what the reader says in reaction to what he reads. I find it rewarding getting these feedbacks.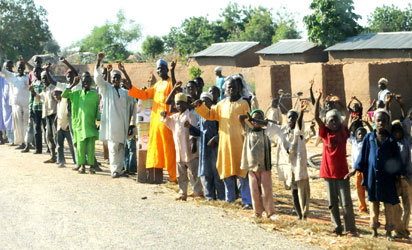 One thing I have realised, long ago, is that Nigerians find it difficult to discuss across the various divides of our diversity: ethnic, religious, regional or geo-political.
Because of our long history of bitter relationship, which is often punctuated by violence, bloodshed and conspiracies to undo one another in the struggle for the pole position at the buffet table where the National Cake is on display, dialogue is difficult among Nigerians.
Many are not willing to say things that are reasonable about what they want in the system. Many are unwilling to give a listening ear or reason through what the others are saying. Even when they tell us, "Good morning", we suspect what they really men to say is "God punish you".
I want to return to this hackneyed notion that we, on this column, write to demonstrate our "hatred" of the North (Arewa) or any other part of the country.
Nothing can be more amusing than that. In the first place, I was born, raised and educated in the East, served Nigeria and got my first employment in the North, and have spent 24 years, the prime of my life here in the West where I married and am raising my family. I am as urbane as they come. Most of my valuable friends are not even Igbos. We argue, agree and disagree, sometimes hotly.
That is understandable because we come from different corners of our diversity. Our experiences of Nigeria differ. One of my top friends from Arewa called me and expressed "dismay" at what he termed "the things you are writing about Northern people". I checked through my recent outings, and identified my common drift.
For instance, I have been very critical of the Arewa Consultative Forum, ACF and some Northern governors because, while some of them have been conspiratorially mum over the bloody exploits of Boko Haram in their home region, some have actually quietly (financially) or openly (at least in the media) supported the insurgents.
When Boko Harm was driven out of Maiduguri and major towns in the North East they had almost gone under, especially with the gallant efforts of the "Civilian JTF".  There were even reports of the insurgents starving and resorting to food raids to survive. Suddenly, they took on a wildfire mode, with reports of "helicopter drops" and possession of conventional war machines like armoured personnel carriers. These things are getting to them from someone somewhere.
Those of us who are genuinely desirous of a speedy end to the insurgency to enable the North return to normalcy and give political aspirants the opportunity to prepare for the 2015 transitional elections cannot be said to hate the North.
It is those who are supplying the nation's enemies with funds and logistics to continue killing innocent Nigerians in their villages and destroying their homes and means of lives that are the enemies of the North and Nigeria.
I have also commented a lot about the "born-to-rule" mentality, which many Northern politicians and the ACF have been bandying. I understand that Sokoto State actually has "Born To Rule" as its state slogan, just as we have "Centre of Excellence" as the motto of Lagos State. If it is true that Sokoto or any other state has such an offensive and annoying slogan, it should be changed immediately. The question is: who are you born to rule? Who is born to be ruled by you?
Here in Nigeria that won her independence from colonialist Britain 54 years ago, whereby we became a democratic, federal republic? It is this mentality that is troubling the North, creating pockets and centres of violence and stymying the economy of a region that was once the most prosperous in the country to become the poorest and most backward.
It is this mentality that pitches the North against the rest of the country and gets Northerners to feel that they are not liked by others. When a Northern politician, especially ACF loudmouths, boastfully say the North will snatch "power back" it becomes a challenge to others to ensure they will never get it again since no region can produce a president without the votes and support of other parts. We are not against a Northerner becoming president of Nigeria.
In fact, I am not against a Northerner becoming the president of Nigeria after the 2015 elections, much as I believe that President Jonathan has the constitutional right to run for a second term in office. When the abducted girls in Chibok have been recovered from Boko Haram and the war on terror has been won, the whistle for the various elective posts will be blown.
When that happens, I do not expect that in the ruling party (PDP) only President Jonathan will be on the ballot. Those who feel they stand a fighting chance should throw their hats into the ring. Who knows? A new presidential candidate might emerge from the ruling party.
The All Progressives Congress, APC, is also there, as well as other political parties.  Let interested candidates go and run. It will be in their best interest to go into the race not as regional candidates out to snatch power back for their region because that will ensure their failure.
Let them come out and sell their candidacy to all Nigerians who will choose. A person who gives this kind of advice cannot be a hater.
It is the regional braggart, the born-to-ruler who cannot pull his weight outside his zone of origin that is actually working against the interests of the North and Nigeria at large.  Let people stop playing the ostrich and start telling themselves the truth. Let people be realistic about their abilities and expectations.
Even in its glory days of political domination of Nigeria, the North still worked very hard to bring other people, especially the East and today's Niger Delta, into alliances, accords and intra-party partnerships. Northerners must start to live and let live in politics. Take your share and let me have mine. Everything else will flow.
Ogboru: lessons for bad losers
I was very delighted when the Supreme Court last week ordered the lawyer representing Chief Great Ogboru, Dickson Osuala, to pay the sum of N8million (N2 million each to Gov Emmanuel Uduaghan, the Peoples Democratic Party, PDP, the Independent National Electoral Commission, INEC, and the Attorney General of the Federation) for "abuse of court processes".
Osuala and his client, Ogboru, had approached the Supreme Court to reverse its earlier verdict upholding the election of Governor Uduaghan on the ground that Section 285 (7) of the 1999 Constitution based on which the Court entered its verdict was "fraudulently inserted by the National Assembly".
While giving the order, Justice Walter Onoghen, who read the judgement, advised the plaintiff's counsel to "go to heaven" if he was not satisfied with the Supreme Court verdict. The importance of this decision is to rein in the excesses of those who like to toy with the judiciary and use it to commit atrocities against our democracy.
Lawyers are very fond of misadvising their clients, giving them false hopes, ripping them off financially and making a mockery of the temple of justice.  We must imbibe the true spirit of democracy, whereby winners are magnanimous in victory, while losers are gallant in defeat, knowing that there is always another day to try again.
This verdict will check the do-or-die attitude of our politicians and force them to play it the way it is done in more civilised democracies.