By Luka Binniyat
The protest by a section of Southern Kaduna indigenes against the peace pact signed by the National President of Southern Kaduna Peoples Union (SOKAPU), Dr. Ephraim Goje, and Fulani herdsmen in April, seems justified.
Between last Monday night and Tuesday, not less than 160 people in seven Ninzom villages, in Sanga Local Government Area, LGA, of Kaduna State, were killed while some of the villages razed.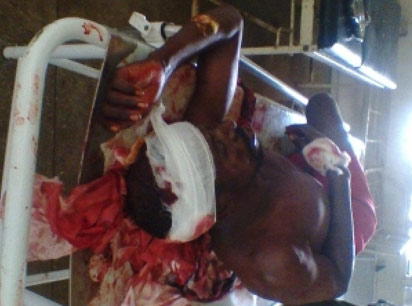 About 123 people were feared killed on Tuesday alone in Kobin, near Gwantu, the headquarters of Sanga LGA.
The Chairman of the LGA, Mr. Emmanuel Adamu, on Tuesday told Sunday Vanguard on phone: "They (assailants) came around 10 last night (Monday night) and started killing people in Nandu village. They killed 19 people there. We first thought they were unknown gun men only to later discover that they were Fulani.
The youths were able to capture two of the attackers. One of them is dead, while the one alive has been taken to a hospital in Jos. Then around 2am, they attacked Karshi village, close to Gwantu, our LGA  headquarters. I was informed that 21 people were killed. Many were injured, I cannot tell you the number now, but I have directed that the victims should be treated in good hospitals in Jos".
The Christian Association of Nigeria, CAN, was the first to condemn the killings, calling on residents of Kaduna State to respect the sanctity of lives. CAN said that the CAN leadership in Sanga put the death toll at over 100
The police, on Tuesday, said they had arrested three of the suspected assailants, and recovered from them three AK47 rifles and 158 rounds of ammunition.
The killings took place while an international conference on security and development challenges of pastoralism in West and Central Africa was holding in Kaduna.
President Goodluck Jonathan was billed to declare the conference open, but was represented by Vice President Namadi Sambo.  Nigeria's security bigwigs and their counterparts from ac4ross the said region attended the event.
'Terrible things'
The Secretary, CAN, Kaduna State branch, Mr. Sunday Ibrahim, at a press conference in Kaduna after the Tuesday bloodbath, said: "Reports reaching me from our Sanga branch reveals that terrible things happened to our members there. We were told that over 100 people were killed yesterday (Monday).  This is very sad.
Residents of Kaduna State must learn to respect the sanctity of human lives. No religion preaches murder. The villages attacked are Dogon Daji, Kobin, Naidu, Kabamu-Karshi, Hayin Kwanta, Kabani and Gani.
"Some people have been arrested among the attackers and were identified as Fulani men. I believe they are terrorists. Because the Fulani that we live with can not do this thing."
Govt to blame – Ninzom youths
The National President of Ninzom Progressive Youth, NPY, Mr Bezard Wuyah, told Sunday Vangaurd on phone, that the mortuary in Gwantu was filled with corpses and hundreds of injured persons taken for treatment."We have lost at least 120 people, going by the fact that we are still picking corpse from the bushes. This morning, we picked five death bodies in another village.
"The Fulani wrote a letter to our chief in Gwantu early this month warning that they will come and massacre our people. We took the threat seriously and took copies of the letter to government. But no arrangement was put in place to protect vulnerable places. This is the third, but most wicked of the attacks on us. We want our youths to wait and see how government will act on this before we take our next action", he said.
Our taking Yero to ICC justified —SKIPFO
On its part, the Southern Kaduna Indigenes Progressive Forum, SKIPFO, said the killings in Sanga had justified further its effort to drag Governor Ramalan Yero of Kaduna State to the International Criminal Court, ICC, in the Haque.
"The governor was adequately briefed about this doom when it was pending but did nothing to stopped it. We believe it was a deliberate act to depopulate Southern Kaduna, ahead of 2015 since we will not vote for him. If it were Zaria, where he comes from that these series of killings are coming from, he would have since found a solution to it.
SKIPFO holds him responsible, and we are surely going to take justice to him at the ICC", said Major George Asake (rtd), Chairman of SKIPFO, in a press statement.
Declare state of emergency now —Danfulani
The Dr. John Danfulani-led Concerned Realists of Southern Kaduna, , CRSK, called for a state of emergency over Kaduna State.
Yero condemns killings
But, Yero, in a statement by his Director General, Media and Publicity, Mallam Ahmed Maiyaki, condemned the violence and sued for calm. The statement read: "The Governor of Kaduna State, Dr. Mukhtar Ramalan Yero, has condemned the attack at Fadan Karshi village, Sanga LGA describing the act as a provocative attempt by some unpatriotic people to cause confusion and unrest".
`Attacks were coordinated'
Hon. Shehu Ajetu, the councillor representing Gwantum ward, Sanga LGA spoke on the killings: "I cannot give a definite number of people that have been killed because in some of the villages that were attacked,   it is difficult bring out corpses from the villages to Gwantu. Some were killed when they were running into the bush. Besides everybody is afraid of being ambushed.
"In Kobin village alone, 37 people were killed. We believe that the figure of death is more than this because a lot of people are still missing in Kobin.
"Hundreds of people from the villages have relocated to Gwantu and are staying in refugee camps. The refugee camps are at  Gwantu Primary school and the Divisional Police Station. "Soldiers and police were deployed to control the situation.
Unfortunately, because the rural communities are not easily accessible, it was difficult for the security agents to stop the killings.
"The Fulani were well armed with AK 47 rifles; villagers were very helpless. They didn't have anything to defend themselves apart from sticks and machetes.
The Fulanis will invade a village and within five minutes, they inflict massive destruction; that is why people in the villages had to run out to Gwantu, the local government headquarters.
"It was a well planned attack because they invaded the communities at the same time. They were spread across the local government area and that made it more difficult for the communities to give each other a helping hand.
"Before this attack, all the Fulanis had asked their people in Sanga local government to leave the area. All their people left before they now came for the attack. Some months ago, there was an issue concerning the Fulani and the Numana chiefdom which was being investigated by security agents. The Fulani notified all their people to leave Sanga local government. So all the Fulanis with their cows left.
"They even gave a notice that they will strike, but nobody knew when they will strike. We were thinking that they will strike in the area where they had problem, so everybody was taken by surprise when they decided to attack many communities"
But one Christopher Chisom, a local vigilante leader from Gwantu, who spoke to Sunday Vanguard, said, his members had given him the casualty figure.
"They killed 38 in Kobin, 21 in Dogon Daji and burnt almost all the houses.
In Naidu, 16 people were killed while, in Kabamu, we lost 30. About 10 were shot dead in Kabani and nine in Gani. The victims were mostly women and children," he said.
Sunday Vanguard could not verify this figures, as the Kaduna State Police Commissioner, Alh. Shehu Umar, and Kaduna State Police spokesman did not pick their calls. But, on Teusday, CP Shehu Umar said : "I can confirm the death of 18 persons and several others wounded, we have also arrested three persons in connection with the crisis, they were arrested with   three AK47 and about 158 rounds of ammunition.
"We have deployed more security personnel to the area and the situation in under control".
110 given mass burial
On Thursday, 110 of the victims were given mass burial, the Chairman of Sanga LGA, Adamu, told our correspondent.
"We have just finished giving 110 people mass burial this afternoon. We had no choice because the corpses were going bad as a result of poor facilities to hold them in hospital", he said.
"But it was not all the dead that we gave mass burial. Some families were able to identify their loved ones, so they were allowed to pick the bodies to go and bury more decently. I cannot tell the number now, but quite a number were taken away by their families. "All those that are injured will be treated on the bill of Sanga Local Government Council".