By Henry Umoru, Joseph Erunke & Levinus Nwabughiogu
ABUJA—NORTHERN and Southern delegates at the ongoing National Conference were sharply divided yesterday over the propriety of retaining the three-quarter benchmark stipulated for approving decisions at the conference.
Northern delegates want a retention of the three-quarter benchmark stipulated by the conference secretariat but the southern delegates want it amended to two-third.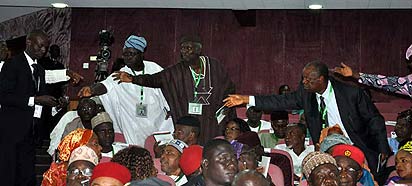 Minutes after the conference resumed yesterday, the house adjourned at 10:50 a.m. for five hours and resumed at 4:00 p.m. during which 50 delegates dubbed the '50 Wise Men' or the Consensus Group to resolve the issue.
After five hours when the conference resumed from break and with signs that the 50 Wise Men had not broken the deadlock, the conference was adjourned to next Monday to allow for further discussion on the issue.
The 50 wise men drawn from the six geo-political zones during the break held a closed-door meeting with the Conference Chairman, Justice Idris Kutigi.
Vanguard gathered that southern leaders who met Tuesday night agreed that any thing short of two- third will not be acceptable, even as the Northern delegates who met with their governors affirmed it must be consensus or three- quarter to conclude on any issue.
A source told Vanguard yesterday that the north was apprehensive that adjusting the adjusting the benchmark to two-third could be to the disadvantage of the zone, given claims that the zone was under-represented at the conference.
Following the increased tension arising from the stalemate, Vanguard gathered yesterday that the presiding officers of the Conference immediately rushed to Villa after the plenary sessions for consultations with administration officials.
Subscribe for latest Videos