By Taye Obateru, Luka Binniyat, Ndahi Marama & Bala Ajiya
JOS — No fewer than 82 persons were yesterday killed in Plateau, Kaduna and Yobe states following separate attacks by some unidentified gunmen.
At least 32 people, including two members of the Special Task Force, STF, maintaining security in the state, were killed in the bloodbath in two communities of Riyom Local Government  Area of Plateau State early yesterday when gunmen attacked the villages.
The communities, Atakar and Rajat, which are boundary villages between Plateau and Kaduna states were attacked at about 3a.m. by gunmen said to have come in large numbers.
An eyewitness said 19 people were killed at Rajat, 11 at Atakar while about 60 houses were burnt.
"The gunmen started shooting sporadically and setting homes on fire. They then shot anyone that ran out of the houses to escape," a survivor, Joel Mana said.
30 killed in Kaduna
Also, in Kaduna State, gunmen suspected to be Fulani, killed no fewer than 30 people in Kirim, Zagan and Zandyen villages and razed hundreds of houses in the three communities between the two states, according to anguished villagers who spoke to Vanguard in Kaduna.
Kaduna State Police Commissioner, Olufemi Adenaike, confirmed the attack.
In Yobe State, some unidentified gunmen suspected to be Boko Haram adherents also reportedly killed 20 people, bringing the total number in the three states to 82.
However, in Plateau State, the member representing Riyom Constituency in the state House of Assembly, Daniel Dem, confirmed the attack, lamenting that scores of his constituents had again been killed barely a month after 40 people were killed in a similar attack at Shonong.
Dem, Majority Leader of the House, said with the latest attack, over 70 people from his constituency had been killed in less than one month.
He said: "The police confirmed to me that 32 members of my constituency were killed by the gunmen. Initially we thought the casualty was 28, but it is actually 32 people and among those killed were two soldiers of the STF."
He described the ease with which the attackers come and escape as a slap on the security agencies and appealed to the Federal Government to approve the commencement of aerial surveillance of the area and deploy more troops for a more effective security.
The STF was yet to react to the development and the killing of two of its members at press time. The telephone number of the spokesman, Captain Salisu
Mustapha was unavailable when journalists tried to reach him.
CEDRA wants emergency rule in Kaduna
Meanwhile, the Centre for Development and Rights Advocacy, CEDRA, has asked the Federal Government to impose a state of emergency on Kaduna State as the only means of securing Southern Kaduna from such attacks.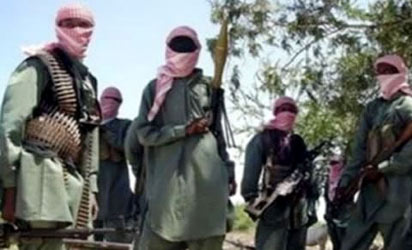 An army of Fulani herdsmen reportedly invaded some communities sharing boundary with the western part of Plateau State and Kaura Local Government Area in Kaduna State.
Speaking on the issue, Bulus Gwaza, a resident of Zankan, said the gunmen numbering about 100 invaded the three communities and started shooting indiscriminately in the night.
"Right now, we have buried over 30 dead bodies and still looking for more. Not a single house is standing now as I am speaking to you. They killed one policeman and one soldier. In fact, other soldiers had to run because of the sophisticated guns that the invaders were carrying."
Gunmen kill 20 traders in Yobe
Unknown gunmen, Monday night, killed 20 in a local market in Yobe State.
A lecturer with the College of Agriculture, Gujba who was said to have been returning from Ashaka town in Gombe State was also shot dead by the fleeing gunmen at Buni Gari.
The state Police Commissioner,  Alhaji Sanusi Rufai, however, confirmed that 18 traders were killed by armed bandits in two villages in Gulani Local Government Area.
Rufai who spoke with Vanguard said: "The traders were ambushed by the bandits while travelling back from Ngalda local market.
"The bandits, masked and  dressed in military uniform, attacked and killed 18 traders, 10 from Kukuwa and eight from Dokshi villages and took away their money estimated at millions of Naira.
Rufai further explained that the attackers also ran into a quarry plant in the area, killing a policeman attached to it.
The police boss further said that no arrests had been made but noted that the "Joint Task force, JTF, and police are now combing the bushes across the state to arrest the culprits. Bandits are now parading themselves as Boko Haram to wreak havoc on innocent people and instil fear in them. As I speak, security forces are searching for the attackers and hopefully we will succeed.''