By Ochereome Nnanna and Soni Daniel
Governor Sule Lamido of Jigawa State is among the aggrieved governors of the ruling People's Democratic Party, PDP. At the height of his frustration with the party, he disappointed pundits who had expected him to join his five  colleagues who defected to the All Progressives Congress, APC, last year. In this interview, Lamido gives reasons why he cannot join the opposition but warns that the exit of Bamanga Tukur from the PDP leadership  does not in any way solve the problem that is generating tension in the party.
Excerpts:
What is really your anger with the PDP? Are you now ready to return to the party now that the Bamanga Tukur  has resigned as the National Chairman?
Is Tukur's resignation the solution to the party's crisis? I don't think so. They say a stitch in time saves nine but the party did not act in time; therefore nine is not being saved. The party we formed with a very clear vision was gradually being destroyed by Tukur. It was to make the Nigerian people see the difference between dictatorship and democracy and showcase Nigeria before the international community as a leader in democratic dispensation.
So, as the ruling party in Nigeria, its character and conduct must capture the Nigerian hope so that whatever we've been able to achieve in the last 14 years is not destroyed. But unfortunately, Tukur embarked on destroying the various organs of the party. For instance, for a whole year he never held a NEC meeting. People are aware of this and he took several profound decisions all by himself. So the party was being run as Tukur's personal estate, as he systematically estranged other stakeholders. So there was impunity on the part of Tukur. He was creating divisions and a serious sense of disunity among the party members. So what we did was to embark on a campaign to our leaders to call Tukur to order and to draw their attention to the fact that the party which got the support of Nigerians to win election in 2011 also needed to behave well and connect with the majority of members so as to win their support in subsequent elections. We also drew attention of the leaders that if we don't change the way things are going on the party, we might not be able to get there in 2015. We even warned that even if we get to 2015 as a divided house, the precipitations might endanger the future government. We met all the leaders and because they are all statesmen, we pleaded with them to call Tukur to order and arrest the high level of impunity that was going on in the party. We recalled the unjustified suspension of Governor Rotimi Amaechi, the stripping of Governor Murtala Nyako of the Adamawa State structures of the PDP, the sacking of Ababakar Baraje and Olagunsoye Oyinlola. The worst case scenario was in the case of Oyinlola. After being reinstated by the court,  Tukur announced his expulsion that same evening. But we all know that the dismissal of party officer normally follows a series of processes. And we began to wonder if the ruling party in Nigeria becomes reckless and irresponsible by way of doing things then Nigeria is in trouble. So the damage has been done already and easing Tukur out under pressure is a little bit late. Look at the consequences. How can the American president lose five governors of his own party to the opposition in one swoop?
And how do we feel as leaders in Africa where democracy is the main philosophy of running government? When our president goes for a meeting   with other African leaders they are likely to ask him what happened to the governors who left his party for the opposition. The consequences and the collateral damage are that our country's image is becoming diminished because the issue goes beyond PDP.
What has happened is an embarrassment to the entire country because our democracy is being destroyed. People stood under very difficult conditions to vote for the president and his party and at the end of the day you are destroying the party and the hope of the electorate by your despotic actions. How can the Nigerian people trust you again? The truth is that by these despotic actions of a few in the party, we are not only harming PDP but democracy and therefore harming Nigeria's image as the leader of the black race. The danger is that if we don't do things right in PDP, we will never be respected within and outside the shores of Nigeria. It is a little bit late for the party because when I say that Tukur is a virus you can see how it is affecting the entire political landscape in Nigeria because the very thing we are accusing the PDP of doing is happening in APC. Why should a person who fought for a process to be transparent go to benefit from that kind of abuse? My colleagues who left PDP felt very pained and had to go. But when the anger subsides, they are likely to reason and may begin to ask certain questions. Some of the questions may include: were we fighting for our personal or national cause? Were we fighting for election or a process that would bring about a better electoral process in Nigeria? Were we fighting for a short term benefit or something that would bring long term effect for  Nigerians? Are we building a strong foundation for the future of Nigeria or what? So for me, our agitation and complaint were simply because the process in the party was wrong and if something urgent is not done it could truncate democracy. Our struggle is all about democracy. I really feel sad that I lost my friends to the other party. They still remain my friends. But you see, on account of principle it is necessary to ask what we were fighting for. We want the right thing to be done in PDP and if the same thing is being orchestrated in APC, then there is a virus. They are people who formed the APC but I don't believe in the party.
I don't think I would want to benefit from the misfortune of the people in APC for being denied their rights. I don't think it is proper for me to go there and benefit from the same thing I'm fighting against in PDP.
We have to look at the mistakes of Tukur and then set up truth and reconciliation process to reconcile the aggrieved persons and groups. The party needs to find out the level of impunity committed by Tukur, who did he offend, what atrocities did he commit and finally; they must admit that the party was wrong. They should restore  the rights that were denied the governors and make amends. The suspension and sacking of Baraje,   Oyinlola and so on must be addressed and the filth in the party cleared as a means of soothing frayed nerves and moving it forward.We should swallow our personal pride and do what is right for  the sake of Nigeria. The ill feeling and anger of those who left must be assuaged .
You were conspicuously absent from the various meetings of PDP governors and the NEC of the party culminating in the choice of a new National Chairman. Are you still angry?
At that time Tukur was still the chairman. I have made the point that I will remain in PDP but certainly not under Tukur as my National chairman. And therefore, at any function he appears, I would not attend. It is so personal because every time I see him, I see the virus that is about to destroy Nigeria's democracy.
But at what forum will you table these demands or conditions for peace to the PDP leadership for consideration?
The PDP crisis is now a Nigerian crisis. Wherever we are, we should stand by the principles that can sustain our democracy. The foundation of our democracy must be right in order to take the load of nationhood. We should put aside our personal interest and work for the well being of this country. And democracy must be made to prevail in all the parties. It is the foundation that first defines our success or failure. Having fought from 1999 till today, we should be consolidating our democracy and not continue to embark on impunity to weaken our struggle.
There is suspicion that your grandstanding with the PDP is that you want to run as a presidential candidate in 2015. Is that true?
I believe that you know very well that in Nigeria people will always try to deflate you by first blackmailing you. In this country, everything has been reduced to aspiration. Is that all we can do for the country? I don't care about the blackmail because there is no name I have not been called because I always stand for what is right. But I remain who I have always been. Although they impute that I'm proud but I listen to superior arguments. Where is the environment for me to run as a presidential candidate? People care about contest and platform, but not the atmosphere. The atmosphere is not just right.
Under what conditions would you be fully involved in PDP activities since you say you have not left the party?
No, no no! I am in PDP and I am in PDP. I have been very involved with my friends and colleagues in fighting for justice and I am still involved. I have never withdrawn and I never took any sabbatical leave from the party. I'm fighting now in my own small way as a Lone Ranger. It's a lone voice.
What are you looking for?
What I'm looking for is what I have been fighting for all my life. I need a country which is united, peaceful and prosperous to be able to provide the people with hope and confidence given the enormous resources that God has bestowed on the nation. I need a country where people can seek and get help and a country where Nigerians can get hope and prosperity and attend their own potentials and aspirations. I want a country where all Nigerians can get all the good things that the country gave me. I can say I have been given everything by Nigeria. They made me a party chairman and a member of the House of Representatives, a minister and a governor and so on.
But the road is now open for you to return to the party now that Tukur has left.
That is true. I will attend the meeting of my ward in my village in Bamaina coming up shortly. My action was not a personal thing because the PDP did something wrong to us and despite our complaints and consultations nobody took us serious or did anything about what we were complaining about. Look at even what happened on the day of the last National Convention of the party at Eagle Square. On that very day, governors Aliyu, Wamakko, Kwankwaso and myself went to the President and told him that a convention of a party is like a jamboree and that every member would like to identify with and share ideas and that he should not allow any major stakeholder to be shut out of the venue. We told Mr. President that Governor Nyako of Adamawa and some National Assembly members from Rivers State should not be blocked from joining other party members at the venue. We pleaded with him that as the father of the party he should allow the governor of Adamawa and the other delegates from Rivers State to join the convention so that by the time they finish there could be peace. We told him sir there's looming danger please avert it.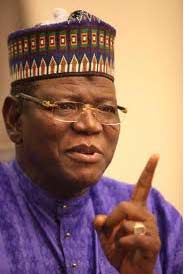 What was Mr. President's response?
He said he was going to tell Tukur but we suspect that the hangers-on around the president said let them go. They even asked what can they do?. All these waiters who were not there when we were working for  the president did not allow the president to listen to us. It is a very painful thing because most of these people cannot even win election in their wards. They got into office as appointees after our sweat to win election for the president. Now, because they are near the power base, they compete in sycophancy  to impress the president. But in my own case, I tell him the truth when I see the president. How can you ill-treat the people who brought fortune to your own party? How can you humiliate those who assisted you? People like Goje, Wamakko and Saraki? Their states were all under ANPP. Kwara was under ANPP and it took the intervention of the Sarakis to bring the state to PDP. Gombe was in ANPP and it took the political sagacity of Goje to move it over to the PDP. Sokoto was under ANPP for eight years and Wamakko brought it to PDP. How can you humiliate people who brought fortune to your own party? How can you say let them go and you don't care? And we are depleting in number and even in honour. And we don't care? Most of these people have got a character that is very nomadic in style. They compete in sycophancy at all times in order to tell Mr. President anything he wants to hear. It is a very painful experience. For God's sake how can a party lose governors at once? Who will vote for the party?   It is like someone who has money but throws it out and then begins to beg from others.
Is the PDP as it is today, the party of your dream?
The party has seriously deviated from the dreams of our founding fathers. There has not been transparency, accountability and discipline. We came together as G9 to establish the PDP to give the nation a new lease of life and a common platform for all Nigerians. The first 13 years was to restore human confidence but those who are championing the noise now either in PDP or in APC lack political history of Nigeria. They could not have spoken or played a role in 1998. PDP may not be able to address the issue of even development in the country unless it becomes a party that is rule-based and rooted in transparency and accountability in the process of selecting political leaders. I'm saying so because if the process is defective, there would be acrimony, pain and division and we would be forced to go back to the era of ethnicity, rigging and manipulation, something that we had been out of some years ago. For us to be able to meet the myriads of needs of the Nigerian people, then Nigerians need a party that is disciplined, focused, transparent and believes in the rule of law. I think that PDP needs to find out where we are coming from, what was our history in 1999 formation and what hurdles were we able to cross and ask ourselves if can we face the Nigeria people and address their needs with her current attitude. No, we cannot. That is my worry but let us hope that things are changing and we will be able to solve the problems of the people. We need to think about it. I have been saying that it is either we have a good PDP that will give us a good country or a bad PDP that cannot help the country.
All the political parties now laying claim to Nigeria lack the political history to be able to address Nigeria's crisis. They lack the political cohesion to move the nation forward because they all came about after the nation had been stabilised by the PDP. Even the PDP is a part of the problem. PDP is the main culprit because the level of its impunity is just too much.
There seems to be more attention to road construction by your administration than other sectors of the economy. Is this deliberate or accidental?
When I was campaigning, I told them to give me their support and when I won I had to take a holistic look at the development needs of the state and a number of things came to my mind. Jigawa is an agrarian state and   if there is no access to the farmers to evacuate their goods and services to where they are most needed, they would be left at the mercy of middlemen and would not derive much from their labour. That explains why I had to build roads across the states so as to open it up for the rapid transformation of the state. It makes life easy because today in the whole country, it is only in Jigawa  that you can drive to anywhere you want on first class highways like anywhere  in Europe. And you can see the joy and happiness of our people on their faces. I think that road construction is very important to me because you can easily feel the effect on the faces of the people.
Having been on the saddle for over six years now, would you say you have achieved the Jigawa of your dream?
Human beings are insatiable. Given our level today, tomorrow will be a higher level because yesterday is gone. There is no way I can say   that I have achieved the Jigawa of my dream because the better the people are the more they ask for more . In my own case, whatever I do today, there is bound to be improvement upon the level. But in terms of connectivity with my people and because I know their taste and desires, I have to continue to improve on what I give to them. How far has the Federal Government assisted Jigawa to achieve its development aspirations? I have not seen a single project worth a billion Naira that has been specially given to us by the Federal  Government. There are some roads passing through Jigawa, which is part of a national highway common to all the states. The roads are there because they are given to all the states.
What about the Jigawa International Airport?
The airport is built by the Jigawa State Government from the foundation to where it is today. We only got N900 million from the Federal Government last year but we have spent N11.5 billion so far on the project. However, there was a commitment by Mr. President to build an airport and I wrote him recently for a refund. And I think he is looking at it.
You must be making a lot of money from internally generated revenue to be able to do as much as you have done in terms of development?
We are not getting much from IGR but we make effective use of all that we get from the Federation Account. I'm a Fulani man and for you to milk your cow you must feed the cow very well. We are therefore very focused and we inject every kobo we have into development. We make very little from IGR and if you deny us funds from the federation account I cannot run the government for three days. But we are working hard to put in the best facilities to be able to stand on our own. We should be able to also have compassion for others. In the African society, we should not see others as liabilities. You cannot build a nation where you malign each other. We can save ourselves from this humiliation.
How much have you borrowed so far to execute projects in the state?
I have not taken a dime from any bank to do any project in the state since I became governor. I don't want to leave any debt for my successor. If I incur debt, it means that I would be eating into the future of our people. My fear is that I may make it impossible for my successor to succeed if I leave a huge debt behind for him. I don't want to mortgage the future of my state and its successor.