The coach of the Brazil U17 team to the FIFA World Cup in Dubai, Alexandre Gallo, has revealed that he holds the Nigeria team in awe.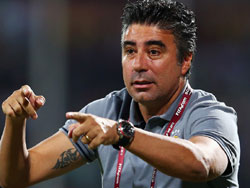 The Brazilians were knocked out of the competition by Mexico in the quarter finals via penalty shoot out, and the Brazilian already 'crowned' the Eaglets as the next champions with his comments.
Nigeria will face Sweden in the semi final game on Tuesday, still favourites to maintain their unbeaten run.
And their impressive displays of footballing prowess has drawn praise from Gallo.
"A strong side who play a similar game to the Brazilians. Their style is what we call football," Gallo enthused about Nigeria in an interview with FIFA.com
Nigeria and Brazil are both tied on three titles each at this level.