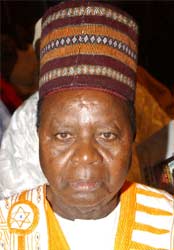 Solomon Lar
By Our Reporters
'IN the last two and a half years or thereabout, we've been talking about his funeral. He would say 'Major, Ponsah (a close relation), where are you going to bury me?' We tried to discourage him from such statements but he would insist saying 'let's face the reality of  life.'"
With these words, the Executive Secretary of the Solomon Lar Foundation, Mr. Major Adeyi, disclosed how Chief Solomon Daushep Lar, the late elder statesman who died on Wednesday knew his time was near and prepared well for his passage.
Speaking to journalists, yesterday, Adeyi who was one of the closest persons to the late politician, said Lar had been talking about plans for his funeral since over two years ago.
Chief  Solomon Daushep Lar died two days ago in a US Hospital. He said, "So this clearly showed that he was prepared for death, he was ready. He would say we should think of the hymns or those to officiate at his funeral. For an old man to have been talking like this, you would know that he was ready to face death because he believed he had finished his assignment."
Outpouring of tributes
The disclosure came as tributes continued to pour in for the late politician just as the Plateau State government said it is making plan to give a befitting state burial to Lar, the first civilian governor of the state and first national chairman of the ruling Peoples Democratic Party (PDP).
Governor Jonah Jang disclosed this, yesterday, while addressing PDP stakeholders from his Jos South Local Government, ahead of the forthcoming local government election billed for December 21, 2013. In a statement by Pam Ayuba, his SA Media/Publicity, Jang also announced that a state mourning would be declared when arrangements are concluded for the remains of the late sage to be brought home.
Jang added that President Goodluck Jonathan, National Secretariat of the PDP and other political associates of the late politician were equally making arrangements to participate in the burial. It was learnt that arrangements were on to fly his body to the country while consultations are said to be on between the Plateau State Government and federal authorities on the burial plans. Meanwhile, encomiums have continued to be poured on the late politicians as several people thronged his Jos residence along Beach Road  yesterday to sympathise with his family. Condolence registers have been opened at both his Jos and Abuja residences in which several people extolled his selflessness and positive contributions to the political development of the country.
PDP opens register, shelves ministerial briefing: The National leadership of the PDP has opened a condolence register at the Wadata plaza, National Secretariat for its late pioneer national Chairman, Chief Solomon  Daushep Lar. Signing the register, yesterday, PDP National Chairman, Alhaji Bamanga Tukur said, "the demise of Chief Solomon Lar is a great loss to the PDP family and the entire nation. He was a great leader, an emancipator of the under privilege. He was a light in the political firmament of our great nation.May his gentle soul rest in perfect peace." As a mark of honour for Lar the  PDP shelved the planned ministerial briefing by the Minister of Communication Technology, Mrs Omobola Johnson.
Tukur, FCT minister eulogise Lar: Tukur, while briefing Journalists, disclosed that the government and the party will give the late Chief Lar a befitting burial, though he did not say how the party would immortalise its first National Chairman and later, Chairman, board of Trustees, BoT despite pressure from reporters. The PDP national chairman, who noted that he accompanied the late Lar during the registration of the party, alongside other leaders of the party, said that the leadership and members of the party will strive to promote peace that the late elder statesman stood  for and was symbolised by the waving of his white handkerchief.
Northern Governors mourn Lar; say Nigeria has lost a patriot: The Northern States Governors Forum (NSGF), described the death of Lar as a devastating loss to the people of PlateauState in particular and the nation in general. Chairman of the forum and Governor of Niger State, Dr. Mu'azu Babangida Aliyu said was a patriot of uncommon courage.
The forum said Chief Lar was a recurrent decimal in the nation's polity for over five decades: either as a legal practitioner, member of the nation's first national parliament, state governor, first national chairman of the Peoples Democratic Party (PDP) or an elder statesman. The statement described the late Chief Lar as a nationalist who lived a purposeful life of dedication to the cause of the nation's unity and dedication as well as commitment to the upliftment of the citizenry.
Nigeria has lost a statesman—Gemade: Former National Chairman of the PDP, Chief Barnabas Gemade said, "We have been monitoring his ill-health in the United States. He has been in and out of the hospital. We thought there had been an improvement in his condition, but death has come in a very shocking manner. We didn't expect that he would go at this time.
Founding father
"As a founding father and the first National Chairman of the People's Democratic Party, he made a tremendous contribution to the democracy we have today. We thought that he would continue to be around to render his services to this party and the nation especially at a time when things have become very complicated. Given the disagreements and challenges we are facing within the ruling party, he should have been around to assist us mediate between the run-away governors and the party."
Governor Yero, ACF mourn: Kaduna State Governor, Alhaji Mukhtar Ramalan Yero and the Arewa Consultative Forum, ACF, praised Lar and urged Nigerians to emulate his virtues. Said Yero: "History would be fair to Lar for his selfless commitment to the unity of the diverse people in the North as well as national cohesion. The death of Lar is a loss to the entire country and not to his immediate family or the people of Plateau State alone.
"The late Lar was a pillar of Nigeria's democracy, as a founding father of the Peoples Democratic Party  he will be remembered as a pillar of democracy, who made immense sacrifices towards entrenching representative governance in the country. He also played prominent role as an astute politician in stabilising the nation, leading to his emergence as governor in the second republic."
He was a detribalised Nigerian and political political icon – Dickson: Governor Seriake Dickson of BayelsaState described Lar's death as most shocking and a painful loss to his immediate family, the government and people of PlateauState and the nation. In a condolence message to the family, government and people of Plateau State, Dickson recalled the pivotal role and selfless sacrifices of Chief Solomon Lar to the enthronement and sustenance of the nation's democracy, stressing that he always placed national interest above his personal considerations.
Lar never practiced politics of exclusion—Dariye: Former Governor of PlateauState, Senator Joshua Dariye, likened the death of the revered politician to a big iroko tree that has fallen. His words: "Solomon Lar of blessed memory believed in internal democracy, he believes that even if you differ, you must ensure that there is internal democracy. People are no more pursuing ideological purpose that brought us together. People are now pursuing personal, parochial, primordial agenda. This is not what politics is all about, politics is all embracing, all inclusive, not exclusive.
"Indeed our prayer when he took ill was to live long and continue to contribute to this great country called Nigeria. It is a big iroko tree that has fallen on the Plateau, in Nigeria, in the Middle Belt. If you look back, Solomon Lar joined politics at pre-independence in the late 1950s and he witnessed the lowering of the Union Jack."
Another fine patriot gone–Amaechi: Rivers State Governor and Chairman of the Nigerian Governors Forum (NGF) Chibuike Rotimi Amaechi, described the death of the elder statesman and pioneer Chairman of the People's Democratic Party(PDP) as another big tragic loss to the country.
Courageous leader
He said,  "Chief Solomon Lar was a true, fine patriot who served his fatherland diligently and wholeheartedly. He was a very courageous Nigerian who spoke against misrule, tyranny and impunity in the country when it was convenient for most politicians to keep quiet; and very dangerous to speak out. He displayed a brand of courage that is rare to find among today's politicians."
APGA expresses shock: National Chairman of the All Progressives Grand Alliance, APGA, Chief  Victor Umeh, expressed shock over the death of Chief Lar. He said that Chief Lar had an eventful and successful life, particularly in his career as a politician, saying that the death of the former governor and astute democrat, came at a time Nigeria needed his political sagacity and advice most.
Suswam, Amosun, Orji, IPAC mourn: Governors Gabriel Suswam (Benue), Theodore Orji (Abia), Ibikunle Amosun (Ogun) and the Inter-Party Advisory Council (IPAC) also showered tributes on Lar. Suswam described Lar as a pillar of democracy, great patriot and a bridge-builder.