LAGOS — A low turnout of revelers, yesterday, characterised most of the fun-spots in Lagos, including the beaches and National Arts Theatre.
Correspondents of the News Agency of Nigeria, NAN,who monitored activities on the second day of the Eid-el Kabir celebrations, reported that only a few merry-makers visited the fun spots.
NAN reported that most roads in the metropolis were also devoid of the heavy traffic that usually characterised Lagos highways.
Alhaji Hassan Sharafadeen, a software consultant, who spoke at the Silverbird Galleria, Victoria Island, said that the economic situation in the country was responsible for the low key celebration.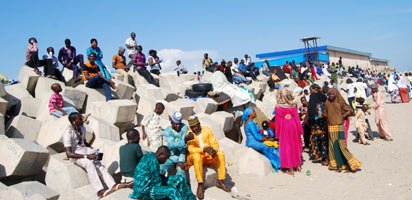 In Nigeria, we do not know how to relax, so this is an opportunity for me to relax and spend time with my family.
"But economically, the situation is not encouraging; spending during this period is hard. Last year, the economy was a little bit better.
"Last year, the parking area was filled up and there was hardly any space to park, but today, cars parked here are few," he said.
Sharafadeen, however, appealed to the government to breathe life into the economy and make the standard of living better.
Also, John Richard, a teller at the Box Office, Silverbird Galleria, said that the turnout at the centre was encouraging.
"The crowd has been encouraging since yesterday that the Sallah celebration began. We have competitions and I know that some people will be visiting other places.
"Last year was better because we did not have many competitions, compared to this year," he said
Hajia Barakat Yusuf, a business woman, who was at the Bar Beach with her family, said that she usually travelled to the village during Sallah, but could not, this year.
Yusuf said that her family did not travel because there was no money.
"To me, last year was better because we travelled," she said.
"This year, there is no money and the little available, we need to manage for the children's upkeep.
"Since we could not travel, we decided to come to the beach to make them happy and feel the mood of the festive period," she said.
Prince Adebayo Adebayo, a fun seeker, said that he and his family were at the Bar Beach to relax.
"It is not because we have the money, but we just need to keep our hopes high and believe that the future will be better," he said.
At the National Arts Theatre, Iganmu, Mrs Mariam Salimon, a teacher, however, said that this year's celebration was better, compared to last year.
"To me, this year's turnout at the theatre is better. I brought my family out here to relax and enjoy the period.
Salimon, however, appealed to the Federal Government to ensure proper maintenance of the theatre, in order to attract more patronage.
Reports say although two films were publicised to be shown at the theatre, many of the fun seekers were seen milling around, while a few families had picnics on the lawns.