By Simon Ebegbulem, Benin-City
*The quarrel with sister moments before risky action
*Why he survived inside aircraft's wheel — Expert
Madam Evelyn Ohikhena, like many other Nigerians, was shocked when she was informed by her sister in-law in Germany, that her son, Daniel, stowed from Benin-City to Lagos via an Arik flight  penultimate Saturday. Before the call from the sister who read the story online on Sunday morning, Madam Oikhena had gone to the police station to report a case of missing person.
The mother, a saloonist with four children, was invited, on Tuesday, by officials of the Department of State Security (DSS). She narrated her ordeal to Sunday Vanguard thereafter. "My son's name is Ricky Daniel. He answers one name in school and another one at home. He is in JSS 1. Before now, he was in a private school Young Scholars, but, because I could not afford his school fees when my saloon got burnt, I now took him to Ogbe Secondary School to continue his third term", she said. She continued, "My sister- in-law in Germany, who was unaware that we were looking for him, called to alert me of the development.
She got the news via internet. I think she said she read it in Vanguard. She was the one who told me Ricky was in Lagos, that he broke  airport security and entered the wheel of the plane heading to Lagos. Soon after she called, my attention was drawn to newspapers by sympathizers and family friends. I rushed to Ring Road where I bought a  newspaper and thereafter I went to the police station to report the matter. He was not used to leaving home". According to her, the police initially did not believe her story as they said "I did not know who I was looking for."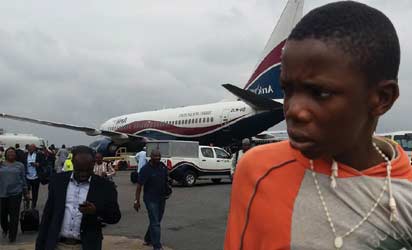 Narrating how the boy left home without being stopped, Mrs Ohikhena said, "I left home around 9pm on Friday for the house of my elder sister who gave birth to pass the night. When I came back the following morning, my daughter told me that she and her brother-the stowed boy- had an argument , that she found him watching film when she woke up to ease herself and that he broke the television set.
The sister explained that my mum-their grandmother-  settled the quarrel but when she woke up in the morning, she could not find him". Debunking the claim by the teenage boy that he left the house because he was being maltreated, Madam Ohikhena said, " I did not maltreat him, but I don't play with him . And I don't joke with my children's education. I give them the best  of education.
Everybody knows me, go and ask about me in Oba Market. When we commenced the search for him, his nine year-old younger brother told me that each time they were watching film, he always said he will go abroad, that he will go to the airport to enter plane. He told me to go and check the airport. I did not believe him. He does not have friends, he hardly leaves home. My son thought he was going to America. My only joy now is that he is alive".
The stowaway saga began penultimate Saturday when the pilot of the Arik plane, about to take from Benin-City enroute Lagos, claimed to have seen Daniel and informed the control tower which promised that security agents will apprehend the boy. The stowaway teenager, however, successfully entered the nose wheel of the aircraft. He was found when the plane arrived Lagos by officials of the Federal Airports Authority of Nigeria (FAAN). His survival in the aircraft wheel well was surprising too because most stowaways face numerous health risks.
From statistics, from 1947 to September 2012, there were 96 stowaway attempts worldwide in wheel wells of 85 separate flights, which resulted in 73 deaths. An aviation expert, David Learmont, suggested that no one would be willing to risk such journey, adding that stowaways who survive usually traveled relatively short distances or at low altitude. He also attributed why stowaways are prevalent in Africa to the poor perimeter security in several airports.