By ANOZIE EGOLE
In the Nigerian political, social and economic context, disability simply means you are incapacitated and unfit to handle any posit ion no matter how small it is.
No matter how you struggle to show  that you can do it, the political environment does not seem to believe that a disabled person has anything to offer. Physically challenged people are often relegated to  ordinary beggars no matter their quality of education.
It only takes the stupendously rich citizens who are disabled to emancipate themselves from this ugly trend. They have involved themselves in several peaceful protests to show the people that there are talents embedded in most physically challenged people but none seem to yield any positive result.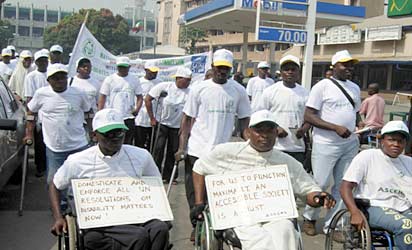 The physically challenged persons, in line with making people feel the pains of being disabled, tried to convince some bankers, senators and some other top government officials to go to work either on a wheelchair or blindfolded and do their daily works like that just to make them feel the pains of disability but  to no avail.
Dissatisfied with the result gotten from their protests and sensitization rallies from people, the  physically challenged persons are on the verge of making history as they have decided to take Nigeria by storm with the formation of a body called, Association for Comprehensive Empowerment of Nigerians with Disabilities, (ASCEND), which was formed to ensure their active participation in politics as a means of mainstreaming persons with disability into the Nigerian polity.
In light of the above fruitless efforts, ASCEND has decided to take the bull by the horn starting with the Anambra state gubernatorial election, 2013. The association has resolved that their votes and that of their families and friends will decide who wins the election in this country at all levels starting with Anambra which is the one at hand now.
The association has decided to put an end to the low standard of living which physically challenged Nigerians are subjected to.
Mr Cosmos Okoli who is the president of the ASCEND said, it is time for them to say no to living in fringes and to the  physically challenged being subjected to abject poverty and suffering. He said that the only way they can liberate themselves from this kind of living is by active participation in Nigerian politics and that is the reason the association  has come to stay.
" We no longer live at the fringes of the society, we have concluded that the only way to stop the marginalization of persons with disability in Nigeria with the attendant social, economic and political exclusion is to take advantage of our huge population and mobilize our members, families and friends to give block votes to candidates for any political office who has demonstrated understanding support to the plight of persons with disability and is prepared to carry them along if he/she wins the election" he said.
According to Cosmos, the reason why many parts of the Nigerian society remain largely inaccessible to persons with disability, why Nigerians with disability remain the poorest of the poor and why there has not been any person with disability elected or appointed to any high political office in the country is not because they do not have qualified person/persons who can take the postions available  but because of the stigmatization and discrimination people in this group suffer in the country.  Given the above scenario,and also to ensure that their ambition of getting the right person who cares about their welfare in power in the forth coming election in Anambra state, ASCEND has therefore, mapped out strategies to actualize their dreams.
The Anambra state chapter of the organization will endorse a guber candidate  for the election which will be followed by the endorsement by the national body of ASCEND. After the national body has endorsed the candidate, it will be made known to the general public and the association will start campaigning for the candidate after reaching an agreement that the physically challenged will be carried along in his/her administration. " The association will campaign vigorously for any candidate that we have chosen and endorsed.
We are going to organize  door to door campaign, rallies, road shows and media tour to promote a positive image and build favorable public opinion for the endorsed candidate. The association will also form a task force to ensure that people come out on the election day to vote for the candidate that they have endorsed. And also, some people will stay back to protect their votes.
The resolve to participate actively in all future elections starting with the Anambra guber elections has stirred tremendous excitement in our community with our members from all nooks and cranny coming out to register, vote and participate in our activities to ensure that we realize our noble objectives. In the meantime, we have got 15 groups and countless number of individuals who have indicated interests  and pledged to work with us to realize our dream of ensuring that the candidate who we endorsed  will win the election.
According to research, we have close to 24 million physically challenged persons in Nigeria and close to 8 million eligible voters. So, if all of us agree and vote for a candidate, I think it will make a positive impact on the persons political career. "  Okoli also emphasized that ASCEND is not a political party as it is  only poised to see that good governance which also sees to the welfare of the physically challenged is brought to Nigerians .
He said that they will select any candidate they know that will care about their welfare considering the person's antecedents and not his political party.
He also lamented that because they selected somebody from a political party in an election does not mean that they will keep selecting from that party.