By Cosmas Okoli
When in the year 2000, the then head of state Chief Olusegun Obasanjo charged Nigerian contingent to the Sydney Olympics and Paralympic games to give him at least five gold medals, as the President of Special Sports Federation of Nigeria at that time, I promised him more than five gold medals. At the end of the Olympics, the athletes managed to win two silver medals while at the end of the paralympic games, Nigerian athletes with disability hauled a total of seven gold, one silver and five bronze medals. This feat was unprecedented and has not been beaten or equalled up to date.
On our return to Nigeria, we heard that the able bodied team was not given any reception by the former President Chief Olusegun Obasanjo. We felt that it was as a result of their woeful performance and hoped that since we exceeded expectations, that we would be received, honored and rewarded handsomely. We waited but there was no word from the presidency. We were worried by the silence from the presidency. There wasn't even a word of encouragement nor appreciation from the government.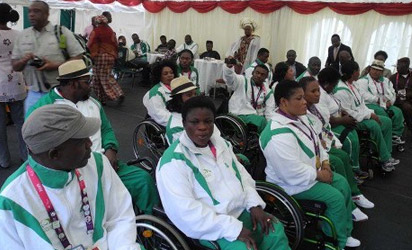 As the president of the Federation who assured the athletes that they would be given a befitting reception by the government if they performed very well. I was gravely worried. I sort the help of the national assembly and mounted a persistent media campaign for the reception of the athletes to no avail. I was devastated because I gave my word to the athletes that if they performed well, I would ensure that they were given a befitting reception.
I have not relented from the campaign to ensure that these athletes are given befitting reception and I will not relent until justice is done. My only concern is that the more government delayed this reception, the more the value of the reception is eroded. Already at least, one of the athletes and a coach are dead, and forever have been denied that well deserved honour. I feel so sad about this and hope that we will not lose any other member of this contingent before the government accorded them the deserved honour and reward.
A glimmer of hope came when the Nigerian relay quartet to the Sydney 2000 Olympic games who were awarded gold medal due to the disqualification of the American relay team, was received, honoured and given handsome reward. I quickly called some of the members of the paralympic team to Sydney 2000 to a meeting, and we decided to request the Nigeria Paralympic Committee President, Mr. Monday Emoghavwe, to write a letter of appeal to the Minister of sports to help us make a case to the presidency to extend the reception he accorded the Sydney 2000 Olympic gold medal quartet, to the victorious Paralympic team. He wrote the letter and took it to the Sports Minister,but nothing positive has happened.
I use this medium to appeal to President Goodluck Jonathan to accord these victorious athletes and officials, a befitting reception. Consequently, continue delay or lack of interest in giving honour to whom honour is due will not help sports development in Nigeria.
These athletes worked hard to train to win a reward—which is not forthcoming. Most of them are not employed and somehow they depend on the reward for sustenance. These athletes are amateur sports men and women who are not paid salary, so their only hope of establishing themselves in order to survive when they retire from active participation in sports, is through their rewards.
It has become even more expedient that these men and women with disability who defied all odds to do our nation proud at the Sydney 2000 Paralympic games are given befitting reception, given the fact that they performed exceptionally well. Their able bodied counterparts who managed to salvage one gold medal after USA was disqualified and stripped of their gold medal, have been given a befitting reception. If Mr. President is informed of this case, he probably will not hesitate to give these victorious paralympians and officials a deserved reward.