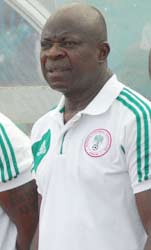 Sylvanus Okpala
BY JACOB AJOM
Last week, speculations were rife that the Nigeria Football Federation had sanctioned the return of some members of Super Eagles technical crew, assistant coaches Sylvanus Okpala and Valere Houndenou  who were laid off by the football house in an unprecedented down-sizing exercise.
A day after the team handed a 4-1 defeat to the Elephants of Ivory Coast in Kaduna, Sports Vanguard inquired from the Chief Coach, Stephen Keshi whether the expected return of his sacked assistants would materialise soon.
"I do not know when they will be recalled," Keshi said. "As I speak, I do not know the thinking of the NFF regarding this issue. We only hope they will be recalled soon so we can continue with the project we started."
When asked whether he was missing Okpala, Keshi chipped in, "yes we miss him. Each time we sit together or in our technical meetings, we remember him. In fact, we are missing all of them that are not here and  we hope that they will rejoin us soon.
"You know your country, they behave weirdly. We always talk about Okpala and hopefully, he will be back."  Valere is still in the team but  Stephen Keshi pays his allowances.