By  Prince Osuagwu
If detaching your tab from the keyboard which is one of the wave making innovations recently will deprive you of your cherished Qwerty typing experience, there is no need to be sad.
As long as technology is dynamic and the Nigerian market is gradually becoming choice destination to wonderful innovations across the world, there must be an alternative.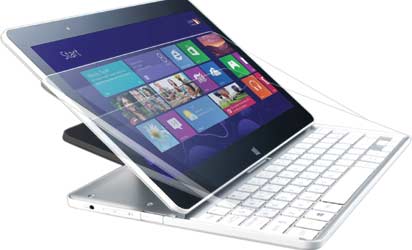 You may not even wait long for the miracle to happen. This is as LG electronics has already chosen a smart way to re- enter the computer market, introducing the Tab-Books models H160 and Z160.
The new Tablet-Notebook hybrid cleverly combines the light weight and mobile capabilities of a tablet with the comfort and functionality of a full QWERTY keyboard in one product. The Tab-Book boasts of a physical one-touch slide-out keyboard that emerges from underneath its 11.6-inch multi-touch screen. With the keyboard extended, the screen rests at a 40 degree angle, optimal for both typing and touch computing.
No wonder, General Manager, Media division, LG Electronics West Africa operations, Mr. Jae Sang Lee boasted: "Together, these devices represent our latest steps forward in the PC segment". While the Tab-Books offer full QWERTY keyboards, mobile functionality and all the benefits of  exceptional IPS picture quality, the Ultrabook lineup combines incredible computing power, good looks and maximum portability. These two products are exceptionally versatile, particularly suitable for today's on-the-go consumers."
Across the world, the demand for tablets and notebook PCs grows from strength to strength, with many consumers finding them simple and elegant for doing business while on the go. In Nigeria, too, these devices are becoming worthy companions considering the number of upwardly-mobile professionals as well as tech-savvy individuals, going for them.
It could be why LG's Product Manager, Information technology for West Africa Operations, Mr. Sunny Bangera noted that "LG's new hybrid PC devices offer a stylish, industry leading light weight alternative and meticulously constructed with features that reinforce greater stability and longevity.