By SAM  EYOBOKA, Abuja
THE first Pentecostal cleric to be elected National President of the Christian Association, CAN, Pastor Ayo Oritsejafor was Thursday night re-elected to pilot the affairs of the umbrella body of Christians in the country for a second term.
Declaring results of the CAN presidential elections at National Christian Centre, Abuja, the returning officer of a 5-member electoral committee, the executive Secretary of Nigeria Christian Pilgrims Welfare Board, Mr. Kennedy Opara said incumbent president, Pastor Oritsejafor scored 80 votes while his only opponent, Rev. Oyekunle polled four ballots.
The 82 accredited delegates, aside from the two contestants, drawn from blocks out of the five that make up CAN had overwhelmingly opted for the Open Ballot system as they freely raised their hands in the full view of everybody to show the openness of the exercise.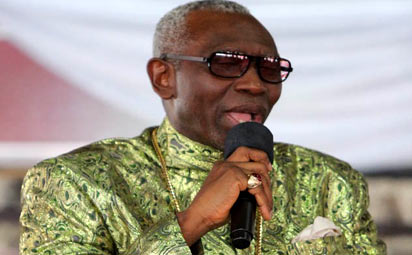 This electoral victory marking the second of a 3-pronged exercise which was preceded by an award of "A True Servant of God" by Christian Elders Forum of Northern States, NOSCEF will however, be subject to ratification of the General Assembly of CAN scheduled for July 9, this year.
At the first election through an electoral college, the CAN helmsman despite recent spate of criticisms by even Christian leaders who are uncomfortable with his audacity and courage, polled 11 votes to his opponent's one to pave the way for Thursday's election at NEC meeting of CAN.
In what appeared to be an acceptance speech, the fearless and charismatic president thanked members of NEC who have given him another mandate to pilot the affairs of CAN for another term, promising that with their continued support, "together we will build a Church that will transform the nation."
He again expressed concern about the menace of Fulani headsmen who he said are a part of an agenda to Islamise the nation, noting that essentially, cattle rearers are illiterates who have been schooled in the art of using sophisticated weapons including AK 47 and others.
He blamed greedy traditional rulers in parts of the South who collect cattle gifts and huge sums of money in exchange for farmlands in their domains which the Fulani use as bases for their nefarious activities including raping women, killing innocent indigenes while the traditional rulers look the other way.
Urging Christians to be extra vigilant about the activities of Fulani herdsmen, Oritsejafor said Christians are not against cattle rearing but Nigerians can no longer continue to accept crude methods of grazing cattle.
According to him, European and American citizens eat beef just as other nations of the world do, "but  where in those nations do you find cattle on the highway? He maintained that their respective state governments should provide modern grazing grounds for their cattle rearers where they would stay and give their children proper education.
"They should take the cows back to where they  came from while grazing their cattle in modern grazing grounds in their homesteads. If they want to be carrying assault weapons, they are at liberty to use same on themselves."
Subscribe for latest Videos