BY OLASUNKANMI AKONI
• It's not abandoned – Govt
IT seems residents and visitors to Lagos State, will have to wait a little longer for the commencement of the multi million naira contract for the installation of Close Circuit Televisions, CCTVs, in the state aimed at addressing perennial security and traffic challenges.
The electronic devices with capacity to capture and register images and events metres away, also aid effective surveillance of the environment in events of criminal and emergency activities such as motor accidents, burglaries, robberies, car thefts, fire outbreaks, civil disturbances, collapsed buildings, suspicious movements and kidnaps, which are tracked and processed for quick response by those concerned.
The state government, about three years ago announced plans to install CCTV cameras across the metropolis but till date the project is yet to fully commence.
CCTV launch: In 2009, the state government launched a pilot phase of CCTV only in three locations in the state. They were on Falomo Bridge, Third Mainland Bridge and Eko Bridge.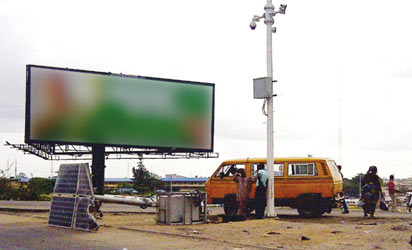 Effectiveness of concept
The project, which was by all standards successful, was to check the effectiveness of the concept. Before then, the Federal Government had intimated the state government of its intention to control the installation and running of the project with Abuja and Lagos, selected for the first phase.
The Federal Government under its National Public Security System Programme, planned to install a thousand cameras in Lagos for a start but 906 were effectively installed. The devices were located on major roads, which include: Lagos International Trade Fair Complex, Amuwo-Festac Link Road, Apapa, Festac Town, Ikeja, Victoria Island, among other strategic areas.
Challenges: Some of the challenges confronting the project, which is being solely financed by FG, it was gathered, apart from the finance, were sites for permanent location, vandalisation as well as non availability of accurate data-bank of citizenry and biometrics. It was learnt that all the cameras installed on the Lagos-Badagry Expressway had been removed because of the ongoing road expansion along the axis.
Commissioner for Science and Technology, Mr. Adebiyi Mabadeje, while reacting to the development, expressed confidence that the project would soon see the light of the day. He explained: "FG approached the state government that it was installing  the CCTV in Lagos and we later said the state government will not have to spend tax payers' money on what the FG has concluded to do in the state.
The FG said that it would roll out a thousand cameras in  the state for a start. They have done 906. This represents the number that the state government has physically seen. And we have been working with the central government on this. "The cameras will not be everywhere now but we know that the intention of the central government is to deploy it to all the nooks and crannies of the state later. It will eventually reach other remote areas of the state.
"The project started with urban areas. Contrary to wide spread comments that the project was moribund, the project has not been abandoned. It is in phases. The FG has not directed the state government to stay action. All they said was that they needed access to the right of way in the state, for the installation of the CCTV cameras. Right now, the project is on. We have seen the pictures they generate. It is not just a CCTV camera, it also act as a communication project that also provide voice and video for the security agencies in the state."