By Charles Mgbolu
Nollywood actress turned evangelist Eucharia Anunobi yesterday May 11 received the "Ambassador of Religious Peace and Unity International Merit Award 2013" from the National Leadership of the Niger Delta Christian Network, Abuja.
She received the award in Lagos from His Eminence, ArchBishop Ambrose Joseph Milner, of Yeshua Embassy of Churches Int'l Inc. Philadelphia, USA at Excellence Hotel in Ikeja.
Her journey to the pulpit began after her bitter divorce from ex-husband Charles Ekwu in 2009 whom she accused of abandoning her and her only son. After the marriage was dissolved, Eucharia slowed down almost to a halt on her screen appearances and in entertainment gist headlines only to re-materialise in 2011 with news of her ordination which many may not not have believed if there had not been picture evidence.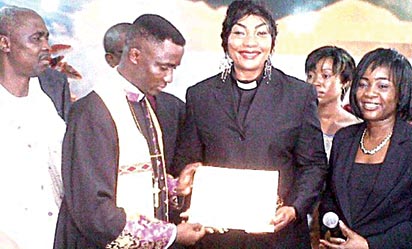 She had posted on her face book wall: 'Yes, I have been officially ordained an EVANGELIST OF THE MOST HIGH GOD, the First out of the house of NOLLYWOOD and am grateful to God for choosing me at this point in my life.
Regardless of what you all may think about this, I am in this service for GOD and GOD alone.
I also appreciate my colleagues, family members and friends who came to honour me yesterday. Words cannot encapsulate how I feel in my heart.
God bless you all for believing in me and I will not let you down!'
Subscribe for latest Videos