ABUJA—As the controversy over the single term agreement said to have been reached by Northern governors with President Goodluck Jonathan deepens, Second Republic lawmaker, Junaid Mohammed, yesterday, said that the furore over the matter was unnecessary, as President Jonathan was not qualified to seek re-election in 2015 in the first place.
Mohammed, who spoke in an exclusive interview with Vanguard in Abuja, advised Jonathan and his advisers to seek a judicial interpretation of his tenure rather than engage in banal war over 2015, which they claim he is yet to decide on.
The politician warned that there would be serious legal problems in Nigeria if Jonathan contested the next presidential election and pleaded with him to spare the nation the agony.
Mohammed said: "As far as I am concerned there should be no two ways about it. People who made promises must be made to abide by such promises.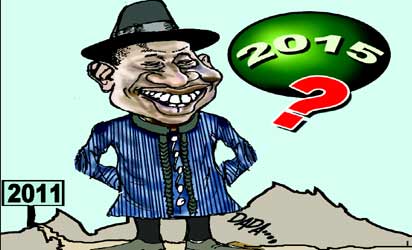 "And even without the promise or deal said to have been entered into by the governors with the President in 2011, an ordinary reading of the constitution at face value will indicate that Jonathan cannot avail himself of another term in 2015 simply because the constitution provides for two terms for anybody notwithstanding whatever the intervening circumstance is.
"Secondly, the constitution provides for people taking the oath of office only twice in their lifetime. Now how this president can proceed to take oath of office three times is something I cannot understand and they are unwilling to subject the matter to the Supreme Court for interpretation.
"This shows that they have something to hide and they believe that by mere propaganda through the lies of the people being used they can now change the constitution.
"To me, the easiest way to amend the constitution is to follow what the constitution says.  Nobody wants to do what the law says and they think they can get away with illegality simply because they are in power. It will not work.
The politicians said that Jonathan had failed to provide a fresh breath of air, which he promised Nigerians at the polls and should look for a way to exit the saddle rather than think of another term.
He stated that from the way the administration was going it was clear that it would not be able to change the situation in Nigeria even if it was in power for 100 years.
"If you leave Goodluck Jonathan to be president of Nigeria and you allocate every kobo that comes into the consolidated revenue of Nigeria to him and some of the governors, there would be no development in Nigeria in the next 100 years," he said.
By Soni Daniel, Regional Editor, North