BY PETER DURU
MAKURDI — There was commotion at the Benue State House of Assembly, Thursday , following the alleged resignation of the Speaker, Mr. David Iorhemba.
Iorhemba allegedly tendered "a hand-written and unsigned letter of resignation" following accusations by members that he was not only high handed, reckless in the management of the finances of the House but misrepresented them before the Executive.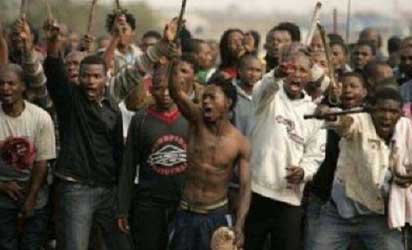 State Deputy Governor, Chief Steven Lawani, who drove into the Assembly complex when the process was going on was not allowed into the chamber.
It was learnt that few minutes after the Speaker's resignation, thugs took over the Assembly Chamber and snatched the Mace just as they turned the complex into a battle field.
Sources said vitually all the members were thoroughly beaten up as they fled for safety.
Vanguard gathered that the trouble started when members of G-24 in the House moved a motion through its Chairman, Mr. Baba Ode (Otukpo/Akpa Constituency) over the constitutionality of members to remove the Speaker when necessary, in accordance with Section 93 of the 1999 Constitution, and later presented a list of 28 members who had signed an impeachment notice against Iorhemba.
However, it was at this point that the Deputy Speaker, Dr. Stephen Onmeje, who presided over the sitting halted the process and informed the House of a purported letter of resignation that had been tendered by the Speaker.
The letter was received and read on the floor of the House without any further objection by members and Baba Ode then amended his motion for the adoption of the resignation letter.
The new motion was seconded by Mr. Benjamin Adayi (Makurdi South) and it was unanimously adopted.
Meanwhile, sources told Vanguard at the House that the last might not have been heard about the alleged Speaker's resignation, since his letter  was not signed and therefore not valid and binding on him.
"The Speaker actually tendered a letter of resignation to members, but we discovered when the letter got to us that it was not signed and therefore invalid because it serves no useful purpose," the source said.