By Tonnie Iredia
It is no longer news that Barrack Obama is back to the White House for his second term as President of the United States of America. His eventful first term no doubt paved the way for the feat. In earnest, the man's vision, passion and general demeanour present him as a person who can win an election any day.
It is probably on this score that my friend, Paul, spent a whole day sermonizing to me the other day about how great Nigeria would be if she could get a President like Obama. While I agree that we need a dynamic President I imagine quite vividly, that Obama cannot win election in Nigeria.
In the first place, getting a platform to participate in a Nigerian election would almost be an impossible task for an Obama; yet he has to find one because the Nigerian political system does not allow for an independent candidate. To use the platform of the largest party in Africa – the Peoples Democratic Party (PDP) is probably the surest way to win but getting its ticket is dicey in view of the difficulty in understanding the party's all-important zoning policy.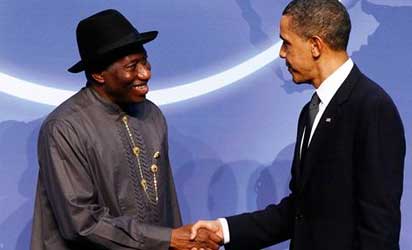 In 2011, when the slot was zoned to the North for example, the way the party handled it left some people to begin to see Bayelsa as a Northern State.  On the other hand, to be the candidate of the Congress for Progressive change (CPC) is ruled out because the position is not available as the members are reportedly anxious to see the founder of the party contesting again.
There is also no chance in the Labour Party (LP) which usually fields no candidate of its own but merely endorses that of another party. If however Obama decides to look up to the Action Congress of Nigeria (ACN), he is not assured of victory because the party members can vote against him as they did to their own Nuhu Ribadu in 2011.
All the other political parties being moribund, the way out would appear to be for Obama to set up his own party – an option which has its humorous but ridiculous challenges. With some dollars, it would be easy to find 37 Coordinators in the States and Abuja but the seed money for the take-off of the new party across the nation is unfortunately likely to be embezzled.
It would indeed be a disaster if some of the Coordinators turn out to be like one character I know who uses the one room accommodation he secured as a party secretariat in the day time and as a 'beer-parlour' in the evenings. This is however not serious compared with our absurd electoral process.  To start with, our Electoral Act – the law which governs elections in Nigeria is temperamental.
The legislature which is made up of politicians who have interests in elections may decide to endorse open ballot as the voting system for future elections.  All they need to do is to sustain the argument that it is the system that best suits voting in our illiterate society. Oh yes that is the argument with which they have refused to allow electronic voting.
We all know however that the reason for the refusal is because electronic voting would prevent any voter from thumb printing more than one ballot paper and would thus invalidate thousands of votes that politicians score through massive thumb printing of ballot papers by some rented hooligans in hide-outs.
Otherwise, why would our politicians continue to argue that our so called illiterate population that can easily use the GSM cannot understand electronic voting? It only suggests that if an Obama decides to contest a Nigerian election, he should be ready to contend with a multiplicity of electoral manipulations.
Again, the argument that our electoral process has improved is only a theory and at best a fiction as children who are legally excluded from the process still participate in it and openly too because of the bogus nature of our voters register.  A person's name can be in it this year; and out of it next year while it can return there in the third year.
Notwithstanding assurances, no one is sure as at today that he would get what our electoral commission describes as a "permanent" voter's card before the magical year 20-20. Not long ago, the commission announced as one of its achievements, the likely completion of the printing of the cards next year.
In the case of election results, there are still many areas where votes often outnumber accredited voters. An Obama would probably wonder aloud about the porous security system which allows such malpractices. In the USA, the electoral process is technically secured whereas in Nigeria it is manually experimented upon by law enforcement operatives
Soldiers are rarely seen in American cities except in the airports when departing to assignments abroad. For this reason, Obama may be disturbed by the number of soldiers on the road during elections. It should not bother him because our soldiers are these days part of the lucrative police business of mounting check points supposedly to apprehend criminals.
Our soldiers are also quite active on an election day where under the guise of 'securing' our electoral process, they intimidate voters in favour of wealthy candidates. As if to make the system look credible, Vice Chancellors of Universities are then appointed as returning officers to read the results. Interestingly, some of these 'holy' men are yet to stop examination malpractices in their institutions
In all democracies, election petition is provided for by law. To utilize the provision may be an option in America but not so in Nigeria where almost every loser usually challenges the outcome of an election. In fairness, some petitioners are not necessarily bad losers as Obama may gather from our media, rather such 'losers' are incensed by the impunity with which elections are manipulated. If an Obama is in their shoes, he may be forced to petition.
Unfortunately Nigeria courts are often compromised. Indeed, clean judges are so few in our clime that a blanket condemnation of the Nigerian judiciary is not uncharitable. So, Obama is likely to lose not only a Nigerian election but also the election petition. I rest my case.