Samuel Okezie Nwogu, is the Chairman of Abia State Oil Producing Development Area Commission, ASOPADEC, the Commission created by Governor Theodor Orji, in March 2010, to alleviate poverty in the oil producing communities.
In this interview with Clara Nwachukwu and Ubong Nelson, Nwogu, tells Sweetcrude how Abia State, has been able to execute development projects both in the host communities and the state in general, despite its meager allocation resources.
Excerpt:
Surprisingly, your Commission has inaugurated numerous projects in Abia State so much that one wonders if you get additional funds to execute these projects?
Sometimes we get about N150million, but the highest we have gotten since inception of the Commission is N160million. If the state gets N400million, we receive 13 per cent of it. Most of the things we do here are through direct labour. If a school needs zinc, we give them the money; they go to the market and get the items.
We are also working with charity organisations, and we are partnering with widows. We have also done a lot of things including social welfare by buying wheelchair, assisting people in hospitals like feeding them, taking some sick people to India for treatment.
Our team is really devoted to the course of helping the people in the oil producing communities. The youth programme which we initiated was backed with skills acquisition programme, and we are partnering with Smiting and MPE to provide the skills and provide them with start up funds after they have acquired the skills.
Due to lack of fund, we went to Abuja and approached the National Economic Reconstruction Fund, NERFUND, and they agreed to partner with us. So they are bringing in 50 per cent of whatever we can bring to equip these people after the training.
The 13 percent is derived from crude oil production, what is the situation with some of your disputed oil wells?
We have almost 47 oil wells that went to Rivers State. But they (Boundary Commission) said they have returned 42 oil wells back to us; and if they have, Abia should have been the fourth largest oil producing state in the county.
If that is the case, why is Abia State the poorest in terms of allocation. Cross River gets more revenue than us every month. It is there on the website. Next month sharing formula will be on the website, you can go to www.economyconfidential.com or www.fmf.gov.ng.
These two websites will give you what is shared.
That is why we have been crying to know the yardstick, if Abia is the fourth producing and they share N114 billion.
Was there no agreement on the sharing formula?
It is purely based on the federal government's decisions. If they do the sharing according to how we produce, there is no way Ondo State will get more revenue than us. Our major problem is that the allocation to Abia State is too poor.
If we have more money we will do more. Our people are really suffering, and there are lots of projects we can still execute to alleviate their sufferings.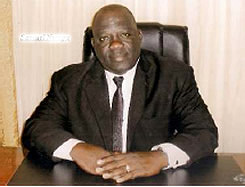 How much oil does Abia produce?
Abia has about 130 oil wells, we have three flow stations, one associated gas plant, we have Abia/NNPC gas plant, it is the gas plant that will supply gas to PHCN to generate electricity, and it will supply gas to Geometric in Abia and to Abia Industry.
We produced 36,000 barrels of crude oil per day, Imoturu produces 23,000 barrels per day and Isimili flow station produces over 8,000 barrels of crude oil per day. Then four oil wells in Izaku go to Obigo flow station. About 30 oil wells from my village go to Umuri and about eight oil wells from Umurie go to Afam.
So what then are you doing to stop pipeline vandalism?
We have improved on internal security, and local surveillance. But we found out that the military and local surveillance cannot handle the situation independently because the military does not know who is who, so we needed the services of the local surveillance to work with the military.
Is pipeline vandalism in Abia more of sabotage or integrity failure?
It is more of sabotage because Shell on their own has been trying to replace their pipelines with a more durable pipe.
Since you mention Shell, how is the oil company helping to sustain peace in Abia?
The oil company is doing totally nothing about it. As a former youth leader from an oil producing community in Owaza, I know most of the issues.
We had very bad roads; Shell did not construct any road. Every year, Shell will come with a budget but they will not tell you that they want to do business with you or what they have for us in the New Year. But Shell will wait until there is crisis before acting.
All that Shell does is to stay in their offices and come up with a policy and impose it on the communities. Apart from the Uwaza community road that links to the Ring Road that was constructed in 1996, Shell has not done anything else in that community.
The water that they supply to the communities is contaminated, and their staff don't drink the water because they come with bottled water. Research carried out on the water showed that it is dangerous to health.
Besides, they don't employ our people, they don't give us preference. This thing they call Local Content is not working for us because they don't award us contracts.
Shell normally gave the excuse that we don't have qualified people to do, but I argued that we do, and on one occasion some of our people went for tests and they came out tops, but still nothing happened.
I know how Shell operates, their policies and other things about them. But thank God for Uchendo (Governor), all the
people in our oil producing communities are being empowered by the Commission – the traditional rulers, our youths; we now have good houses, good roads and we are embarking on scholarships, we want to send some of our students to Malaysia to study.
What about the NNPC, are they doing anything to help the communities?
NNPC is the worst of them; but if you touch their pipelines you will go prison.
… But it was reported that the kind of oil spill that occurs in Abia will soon over-run that of the Niger Delta?
Whoever said that does not know what he is saying. Let him tell you which pipelines the spills are coming from. They stay in their offices and say things they don't really know about. But the truth remains that it is very difficult to break the pipelines, some of which are between 8 and 11 inches thick.
Let me explain something many people don't know; when you go to a Christmas tree that is not producing you cannot take oil from it because it has an automatic valve that shuts in. Oil does not flow like water, it comes from a reservoir, so whatever happens to the pipelines, it sends a signal immediately to the Christmas tree and the tree regulates what flows through it.
Also, where is the map that provides the line for these pipelines that they are doing? You will see that there is no Awaza community in the map. So when it comes to revenue that is meant for the state you will find out it does not come to us because our oil producing communities are not on the map, and it is the same map they use to give other states their allocations.
The governor is on top of the situation to ensure that what is meant for the state is what the state gets in the allocation of 13 per cent derivation.
What about other agencies like NDDC and Niger Delta Ministry?
Apart from the Commission, we also have the Niger Delta Development Commission, NNDC, and the Niger Delta Ministry. But we all know the politicking that goes on there.
They will do big projects yet they will not commission them, especially the NDDC. For instance, there are more than 20 water projects with that have not been commissioned in my community. But the Niger Delta Ministry is doing their best because they are constructing good roads.
Back to the derivation fund, is there a forum where stakeholders meet to decide which community gets what?
Our people are happy with the little they see because in previous years we did not see anything. Also, there are lots of things the oil communities are benefiting from the state because they have commissioners from those communities. They get other state appointments, and youth empowerment programmes.
They also have their share of state contracts; that is why the governor is happy with the work we are doing because we are complementing the job he is doing for these communities.
The state government is really trying with the little that comes from the 13 per cent derivation allocation. After the Commission has made all the necessary payments, it will still have to fund so many other projects; meanwhile the people are not willing to pay tax.
Lagos State can do without allocation from the federal government but that is not the case with Abia. Sometimes, the governor will tell us to manage what we have. When we started constructing roads, he was surprised, but I told him that with the funds that we get we can construct good roads.
We are not here to build houses for ourselves overseas; personally, I have not travelled out of this country since I became chairman of the Commission. All we want to do is to give back to the community and make them feel comfortable and to have a sense of belonging.
Is there anything your Commission is doing toward conflict resolution?
Yes there is. We are partnering with Civil Society Organisations, Women's groups because mothers are affected more by their children's vices. We provided funds to train some youths in non-violence system. Those of them who were trained now realise that they were being used to carry out nefarious activities within the state.