By Onochie Anibeze reporting from London
Not even an Olympic race could change the smiling face of Regina George. She is always smiling. It is in her character to do so. And five meters to the end of her heat in the 400m event here today  in the London Olympics, the US-based Nigerian runner was smiling. It was her first time in the Olympics and being in front drew smile out of her face. She ran 51.24 seconds to win her heat that included Rushia's Gushchina Yulia who ran 51.54 to place second and Wesh Marlene of Haiti was third with 51.98.
George qualified for the semi-final that will be run tomorrow. She kept on smiling while she spoke to the media at the Mixed Zone and when a journalist asked her if it was not strange smiling while running she said it was part of her to always do so. She was happy winning the race but admitted being nervous initially. "It feels good to win your heat in the Olympics," she said, smiling.
"It was competitive. I was nervous but I realised it was just another race and I kicked. When I found myself leading I was confused as I couldn't imagine I would be doing so. But I kept on pumping till the end. I now feel I can make it to the final where it will be anybody's race. I won't feel that way again. Now I feel I can be in the top three." Well spoken.
The 400m race has home girl Christie Ohuruogu who is the Olympic champion, Sanya Richards of USA and Montsho Amante of Botswana who are all hot this season. They are favoured for medals here.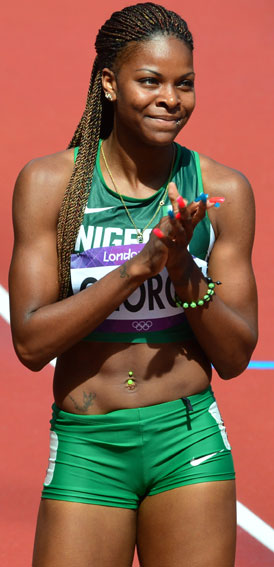 "Regina George has to run a faster race, she has to run her Personal Best to be in the final," Pat Itanyi called on phone from USA to say while wishing the athletes well. "My money is on Sanya Richards and Montsho. I'm not sure Ohuruogu will place among the top three," she said.
Omolara Omotosho placed fourth in her heat and was emotional when she stepped into the Mixed Zone,limping. Her eyes were heavy and she could not utter a word as she struggled to hold back tears. She felt that she was out in the first round. But when results were compiled, her 52.11 seconds qualified her for the semi-final.
Regina George says that if she gets to the final anything can happen. That's true and the same way Amaechi Morten felt after his 400m Hurdles race. He placed third with 49.34 seconds to qualify for the semi-final although he slowed down towards the finish line.
Amaechi has run sub 49 seconds this season. He hit a hurdle at the last curve and this affected his strides. But he said he would run better in the semi-final. "The way I ran wasn't what I expected. When I hit that hurdle I lost momentum.   But I'm feeling good and will run a better race in the next round."
Whatever happens, track and field has lifted Nigeria here. Three out of the four athletes who competed in the morning events today are in the semi-finals. The other athletes from other sports never got this far. Osasuwa Uhuoma who is the next athlete is competing in the Heptathlon event which is still on although she was sevent in the 100m Hurdles.
"I have been in pains since this week. I have pains in my groin and I'm not just feeling good," she said at the Mixed Zone, actually looking downcast. Athletics Federation chairman Solomon Ogba had promised to personally reward athletes who get to the semi-final and final evets here. Three did so in the morning and Blessing Okagbare has a race later tonight.
Meanwhile Blessing Okagbare  and Gloria Asunmu later made the night more memorable as they both qualified for the semis.Okagbare  ran the second fastest time of 10.93.