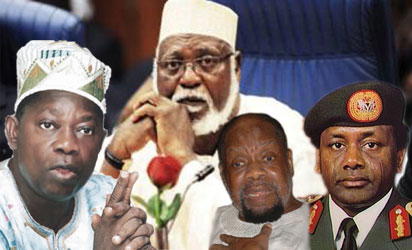 Abdulsalami: Didn't want to stay in office beyond one year; Abiola:Mandate never reclaimed; jukwu:Delivered "ON ABURI WE STAND" Speech on May 30, 1967 and Abacha:Died suddenly
BY JIDE AJANI
How did the military administration of General Abdulsalami Abubakar come about May 29 as handover date?  This piece explores the issues around May 29.
The workings of their minds may never be known. General Abdulsalami Abubakar's Provisional Ruling Council, PRC, had an idea of what Nigerians wanted and was very eager and willing to give it to them.
With the demise of General Sani Abacha on June 8, 1998, and the continuing agitation for a return to civil rule, Abubakar's administration understood the concerns of Nigerians and the international community: Hand-over power as quickly as possible.
And if there was only one thing in the minds of members of the PRC, it was the need to handover in about a year's time.
Although Vanguard has not been able to lay its hands on the minutes of the rash of meetings held inside Aso Rock Presidential Villa in the wake of Abacha's death and in the early days of the Abubakar administration (particularly in June and early July of 1998), a number of those who attended such meetings told Vanguard that the major reason the administration of Abubakar chose May 29, 1999, as its hand-over date is that "it did not want to stay in power beyond one year".
In fact, when May 29 was announced as Democracy Day, there was opposition to the date from members of the National Democratic Coalition, NADECO, the umbrella body of pro-democracy and civil society groups, which had all along been agitating for the actualisation of the June 12, 1993 presidential election mandate.
Inconclusive election
The election was rendered inconclusive as the electoral body did not announce all the results of that election.  And whereas late Chief Moshood Kashimawo Olawale Abiola of the Social Democratic Party, SDP, was presumed to have
won that election, he was never declared winner; and he was to die in detention exactly 29days after the demise of Abacha on July 7, 1998 _ His death created a vacuum.  The least person Nigerians expected to die at that critical time was Abacha. But the man died!
While the PRC did not want to pick a date that would push its stay in office beyond 51 or 52 weeks. Counting from the week of June 9, 1998, to May 29, 1999, there were just between 51 and 52 weeks.
May 29, 1999, a Thursday, was chosen by the PRC. In fact, for that reason, TIME Magazine chose Abubakar as a runner_up in its choice of Person of The Year for 1999. The NADECO chieftains actually wanted a Sovereign National Conference, SNC, to be held first before the political transition programme time-table would be released. They also wanted a Government of National Unity, GNU, instituted in place of the military. Then there were those who felt and, therefore, insisted that even if the military was to relinquish power, it should not be on the terms of the NADECO leaders.
There were also some hot heads in the military, who wanted a slightly longer time in office. The western powers wanted the military to leave office as quickly as practicable without leaving behind a fractured polity.
Confronted with all these, and especially because he was an unwilling leader, Abubakar looked for the quickest exit date, which would not make the military stay in office beyond one year of his taking over.
Chief Ayo Adebanjo, one of the leaders who were in consultation with the military, said: "We kicked against that date of May 29, 1999, as Democracy Day.  For us, the argument was simple and straight enough.  If there had been no June 12 Presidential Election of 1993, there would have been no new arrangement whereby the military would be seeking a hand-over date.  We also made it clear to them that the May 29 date has no significance in the history of Nigeria in any way".
However, Vanguard learnt that some people kicked against the May 29, 1999 hand-over date because it had a close association with the dates Chukwuemeka Odumegu Ojukwu made his now famous 'Secession and Declaration of the
Sovereign State of Biafra' and 'On Aburi We Stand' speeches. Both were made on the 30th day of the month of May, 1967 and 1969, respectively.
On the secession issue, he declared thus in 1967, "Fellow countrymen and women, you, the people of Eastern Nigeria: Conscious of the supreme authority of Almighty God over all mankind, of your duty to yourselves and posterity; aware that you can no longer be protected in your lives and in your property by any Government based outside Eastern Nigeria; believing that you are born free and have certain inalienable rights which can best be preserved by yourselves…. "Now, therefore, I, Lieutenant_Colonel Chukwuemeka Odumegwu Ojukwu, Military Governor of Eastern Nigeria, by virtue of the authority, and pursuant to the principles, recited above, do hereby solemnly proclaim that the territory and region known as and called Eastern Nigeria together with her continental shelf and territorial waters shall henceforth be an independent sovereign state of the name and title of "The Republic of Biafra….
"Long live the Republic of Biafra! And may God protect all who live in her!" On the 'On Aburi We Stand' speech, he insisted:  "Anybody who was present at the Aburi meeting or has read the minutes, the communiqués, statements, and verbatim reports would be surprised that a person who calls himself a head of state could so deliberately mislead accredited representatives of foreign governments by saying that the implementation of each item of the conclusions required prior detailed examination by the administrative and professional experts in the various fields. The conclusions in Aburi were no proposals but decisions taken by the highest authority in the land.
"We in the East are anxious to see that our difficulties are resolved by peaceful means and that Nigeria is preserved as a unit, but it is doubtful, and the world must judge whether Lieutenant_Colonel Gowon's attitudes and other exhibitions of his insincerity are something which can lead to a return of normalcy and confidence in the country. "I must warn all Easterners once again to remain vigilant. The East will never be intimidated, nor will she acquiesce to any form of dictation. It is not our intention to play the aggressor. Nonetheless, it is not our intention to be slaughtered in our beds. We are ready to defend our homeland. "Fellow countrymen and women, On Aburi We Stand. There will be no compromise. God grant peace in our time".
And whereas pro_democracy activists largely in the Yoruba_speaking South West geo-political zone still celebrate June 12 as their own Democracy Day, the Federal Government of Nigeria continues to declare May 29, the hand-over date to civil rule since 1999 as Democracy Day.